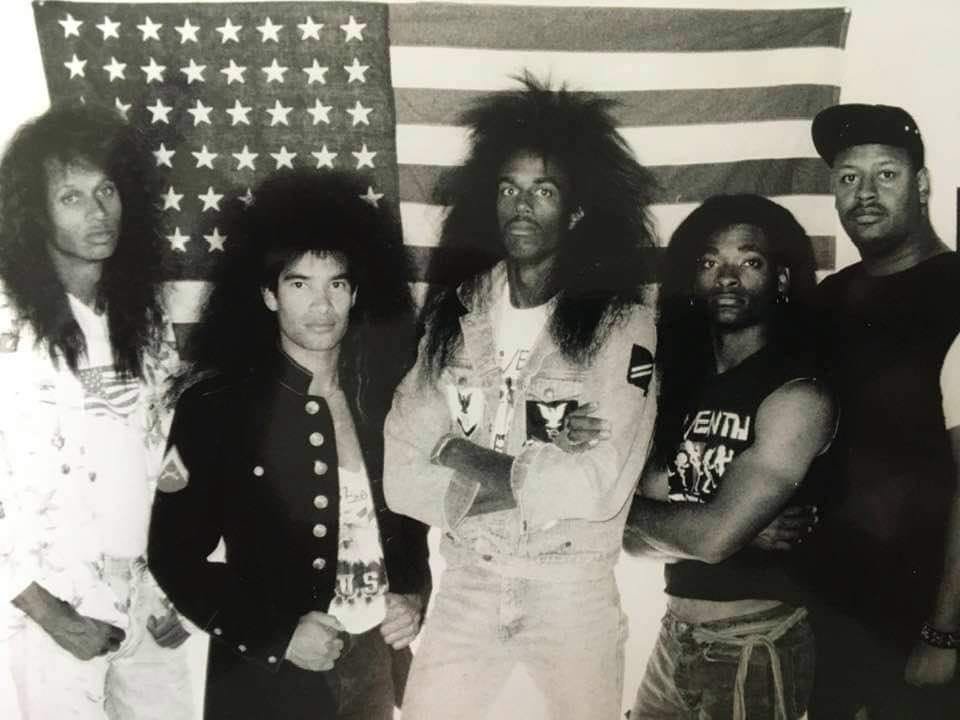 The year was 1989 and Seventh Seal were making their debut live performance in Lancaster, CA as the opening act for a band called Faxx, later to become known as The Brave. The guys began their set singing the national anthem acapella. As they then flew into the riff of their first song, the crowd went crazy. When the lights came on the screams of awe came to a screeching halt. In the late 80s, the sight of five black guys with hair down past their shoulders playing heavy metal was way out of the norm. Add in the fact that they are also a pro-American, patriotic band, and Christians to boot, and you are in for one wild ride.
I was 16 when I first began working with Seventh Seal and quickly worked my way from being a roadie to becoming their production manager. I was privileged to be present for a number of record deal offers including contracts from Star Song, Intense, and Packederm. Unfortunately, none of those offers panned out, and it wasn't until Blonde Vinyl delivered them the ideal proposal that things began to take shape. Sadly, the label went under just one month before the guys were to begin tracking. This marked the end of the band as the members were all involved in other projects and business ventures that took them in different directions.
Fast forward to 2019 and the band's old demo is now being played on air in South America. Mention of the guys continues to pop up around social media and a buzz begins to start about the band reuniting. They were once voted the best metal act of Cornerstone and Heaven's Metal editor Doug Van Pelt calls them the best-unsigned Christian metal act ever. Bill Roxx is eager to offer the guy a lucrative deal and I as their number one fan begin to bring all of this information to their attention. They are all on board and plans start to form. Tragically, their long-time friend, brother in the faith, and drummer Sylvestor Hearns (Sly) passed away from cancer. Then Covid hit and followed by that, additional personal attacks presented even more setbacks.
However, God is good and he has, at last, opened the door for the band to finally announce that they are moving forward to record an official debut album in 2023. The album will feature reworked versions of their classic material as well as some new songs to reflect where they are musically today. While all of the guys have become very different people from who they used to be, (time and life tend to do that to the vast majority of us), great things are on the horizon for the return of Seventh Seal in 2023. Fans can expect, CDs, vinyl, and digital releases once the album is completed. It will also contain artwork by their dearly departed drummer Sly Hearns, and they plan to dedicate the entire record to him. A drummer friend, whose name has not yet been disclosed, and who was a great admirer, and highly influenced by Sly's style will be laying down drum tracks on the album. In addition, there has been talk of the guys playing live! Stay tuned for further details.
The Metal Priest