Symphonic/Alt metal band And Ever from San Diego, has released two dates for upcoming shows in California, US. First date is on 20th of August, A Special Night Of Worship at San Diego/Oceanside, North County. They are also confirmed for The Metal Onslaught fest 2022 17th of September, which will take place in San Bernardino, California.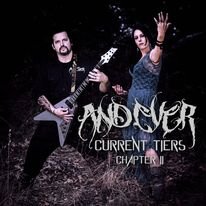 And Ever was first formed as an acoustic duo by Lindsay Almos and her husband Steven Almos. They have had a partnership creating music for a while. She writes the lyrics and together they decided to release songs that they felt could impact the world in a positive way.
Releases so far are:
Album: Pathways 2013
EP: Reconstruct an 5 track EP, 2018.
In 2020 they released a two piece release concisting of 2 EP´s
with four songs on each:
Current Tiers Chapter 1, featuring the single "Open My Eyes", 2020
CurrentTiers Chapter 2, 2020
Fans of Within Temptation, Epica and Nightwish should find themselves in a familiar landscape. For me being a huge fan of symphonic metal and bands like Within Temptation and Tarja Turunen (formerly of Nightwish) this is the closest Christian alternative to them I've heard so far.
On Bandcamp the band describes themselves as:
"Emerging from the ashes of brokenness, the emptiness of clinging onto
worldly traditions. Breaking down the barriers of sub-genres and the hype of
trends. With a vision in mind to share personal trials and testimony through
music and share the love of Jesus Christ with others".
So if you're anywhere nearby California at these dates, don´t miss out on the rear opportunity to see this Christian symphonic act perform live.