When it comes to throwbacks (especially being Thursday and all), we take a trip down memory lane with a thrash metal band that are fondly remembered with two blistering albums, Renaissance by Death (1991) and The Passing (1993) which I myself remember picking up all those years ago, in Perth, Western Australia.
Betrayal began in 1988, as it raised itself out of the band Martyr. The last known full lineup consisted of:
Marcus N. Colon – Guitars
Jeff Lain – Bass
Jeff Mason – Drums
Bob McCue – Guitars
Chris Ackerman – Vocals
The group initially disbanded in 1994, but was revived in 1999 as a one man project by guitarist Marcus N. Colon, which released a split The Passing of Time (2001) and two full lengths, Leaving Nevermore (2000) and In Remembrance of Me (2002).
Judging by the featured YouTube video, it had been surely a couple of years as the band performed their very first show in Santa Fe Springs, 1991.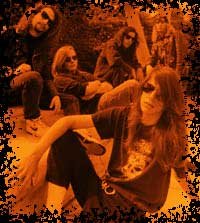 Former vocalist Chris Ackerman came across a few VHS videos of the band from the 1990s with full live recordings in their true form, which haven't seen the light of day, since their recordings back in the day.
This is what Chris had to say about this debut video:
Here is where it all began. The very first "Betrayal" show that took place in Santa Fe Springs on February 28, 1991. At the time we were still planning on keeping the name Martyr, but as we know from history that did not happen, so this was my one and only official show as the singer of Martyr.

I had already been with Martyr since 1987. One Sunday afternoon, when I was home for the weekend from Bible College, I met Dave Prado outside Sanctuary South Bay. He handed me a copy of their demo "Death is Dead" and my life changed right then and there. On weekends I would travel from Santa Cruz to Porterville and hang out with the band, roadie shows at the Porterville Community Center, and other mischievous chaos around town.

When the band moved to Los Angeles, I went along and as we grew, I moved from head roadie to stage manager, to road manager, which is where I ended up in 1991.
Prado left. In my mind that was it. He was Martyr. But the rest of the band had other ideas. The band would continue. Quickly a new bass player, Jeff Lain was found, but they could not find the right vocalist. We had this show on the calendar, and since I had been around so long and knew (most) of the words to the songs, I was told I needed to be a stand-in for this show. I did NOT want to do it, I loved being behind the scenes, but after much persuading I relented and here we are.

Watching this now in 2022, I look at myself talking so quietly between the songs and realizing how I was still a long way away from becoming "Crazy Chris", the professional sports announcer, emcee, and public speaker I am today.

As I said, I knew most of the words, but "Escaping the Altar" was too much even for me to memorize in a week, so that is why it is the only time it's ever been performed as an instrumental. Most of all my heart was touched for two reasons, remembering this was shot just a little more than a month after my father died (see Plead the Blood Intro), and watching the genius of the late Matt Maners and remembering what a wonderful, unique, and talented person he was.

As soon as the show ended, Marcus N. Colon turned to me and said, "We have to have a serious talk about you not wanting to be in this band".

And the next chapter began right then and there…
Converted from VHS to digital, see Betrayal LIVE and uncut. I know for me personally this is a taste of seeing a live performance of one of the bands who I fell in love with back in High School.