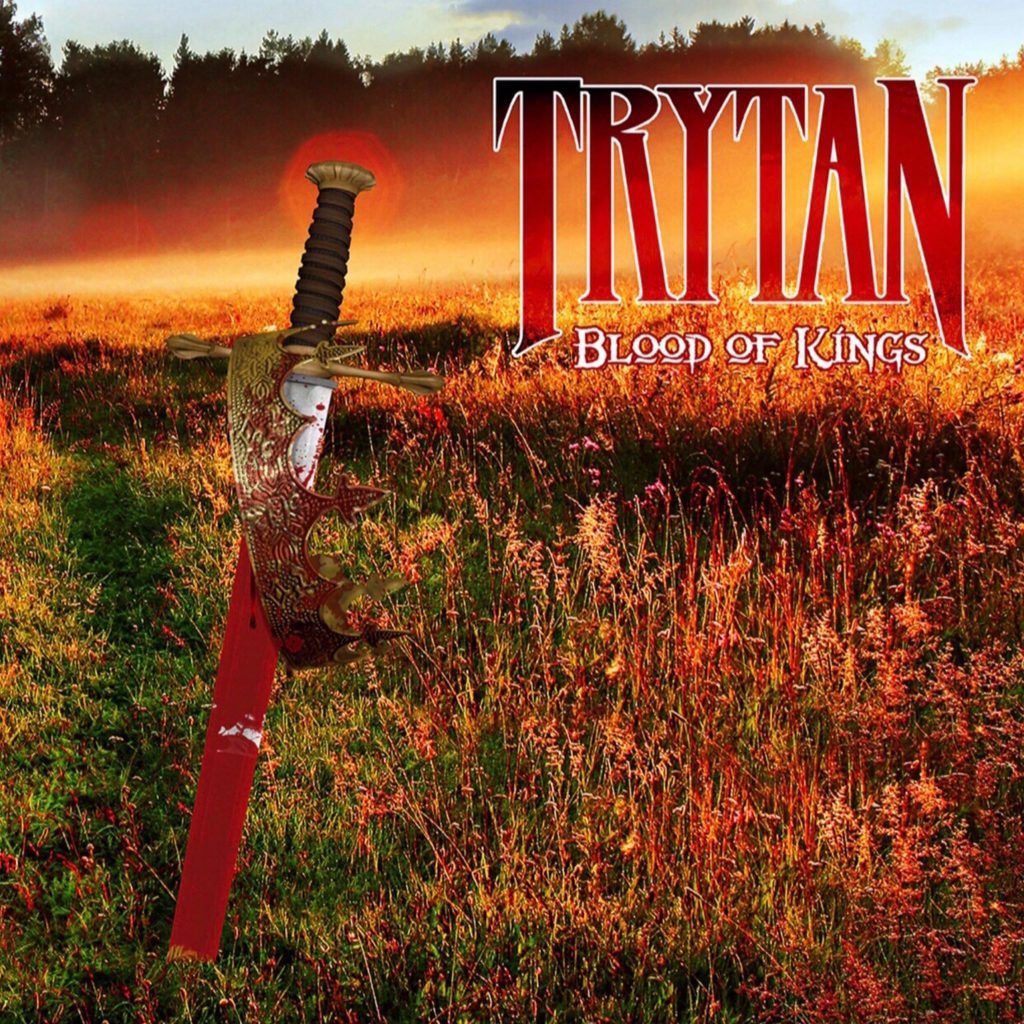 There seems to be a revival of sorts when it comes to Christian bands coming out of retirement some 20 or 30 years later to release new music. We already have new offerings from Detritus and Fear Not, and The Brave are preparing to deliver a new album come this July. Without a doubt, 2021 is shaping up to become the year of comebacks.
One band that is an extremely pleasant surprise to have back in the game is Chicago based prog rockers Trytan. The band, now consisting of guitarist/vocalist and founder Larry Dean, (the only remaining member from the bands original line up), bassist Jim Laverde (ex-Barren Cross) and drummer/keys Eric Gillette (Neal Morse Band) have crafted a stellar composition in Blood of Kings. First things first, to those who are curious as to how the band has evolved over the past 30 years, I'll start by saying that the bands Rush influenced sound is in full swing on this latest endeavor. That being said, everything else found here is bigger and better. The writing is nothing short of superb, and in so many ways. Both musically and lyrically, the guys have some fantastic moments throughout. Beginning with the opening track "The Descender," it is evident that this album is poised to be the strongest of Trytan's career. Mega guitar riffs and complex rhythmic intricacies abound. The clean guitar breakdown is pure ear candy as is the build back into the groove. The title cut "Blood of Kings is an epic masterpiece from start to finish; a full-blown anthem song if I ever heard one. The progression of the song is a journey that follows with a slow and ominous beginning to a rocking power metal call to Christians to lay down their lives for Christ even if it means suffering the most atrocious deaths imaginable. As has been the case for thousands of years. Just when I thought I'd heard just about every lyrical inspiration imaginable, here comes a song that is based on professional extreme sports athletes "Last Night in Dubai." When it comes to direction and what an artist is trying to convey through the message of a song, it is no easy feat, and this can be tricky to accomplish at times. There are those who leave their words open to interpretation, some adhere to scripture directly to present their case and still others choose a different path as is the case with Mr. Dean's approach. As it turns out, he offers a written explanation of each and every song in the liner notes of the CD. Now, I didn't expect to hear an Iron Maiden riff on this album but there it is right there in the opening dual guitar leads of "Monster." Those looking forward to some straightforward rockers need look no further than "Centrifuge," "Shadow Racer" and "A Million Hearts." So, I know that there has always been some controversy with Metal bands and the use of keys in the music, but I think that artists such as Ronnie James Dio, Rush, Dream Theater and many others including Trytan have shown that they definitely have their place and there are some truly stand out segments on this album. "The Godstorm" is a soaring guitar instrumental that just hits the chill factor right on the head. Great job Larry! For each Trytan album released, the band have made it a point to include a worship song and for Blood of Kings they chose "Revelation Song." This is perhaps the biggest surprise on the album as it includes guest vocals by John Elefante (Mastedon/Kansas), Rey Parra (Sacred Warrior/Worldview/Deny the Fallen) and Eric Gillette. The thing that sends this one over the top is the big production featured. This is something that makes these types of comebacks so meaningful. To hear the music in such a crisp and clear way is very emotional.
Wow! What an amazing set of tunes there is on Blood of Kings. Can anyone say album of the year? I for one am beyond impressed and can't bring myself to stop listening repeatedly. I just can't say enough good things about this album. It is a must have for any true connoisseur of the art. Go buy it at once!
-Priest