It is hard to know where to begin with our coverage of this magnificent event. This particular one was the 13th and is still going strong.
Not only was Drottnar on the bill this year, but a very special Groms reunion was in the works as well. With Meltdown 2019 being set up for the same weekend, some folks had a difficult time deciding where to be. But fortunately, The Metal Onslaught was able to be represented at both! So, if you missed NF 2019, this is for you! And if you were there, well, this is for you too because I think TMO's coverage is going to spark some mighty fine memories of this event!
Starting with Friday, November 1st, Sub Scene once again received Nordic Mission and this festival with open arms.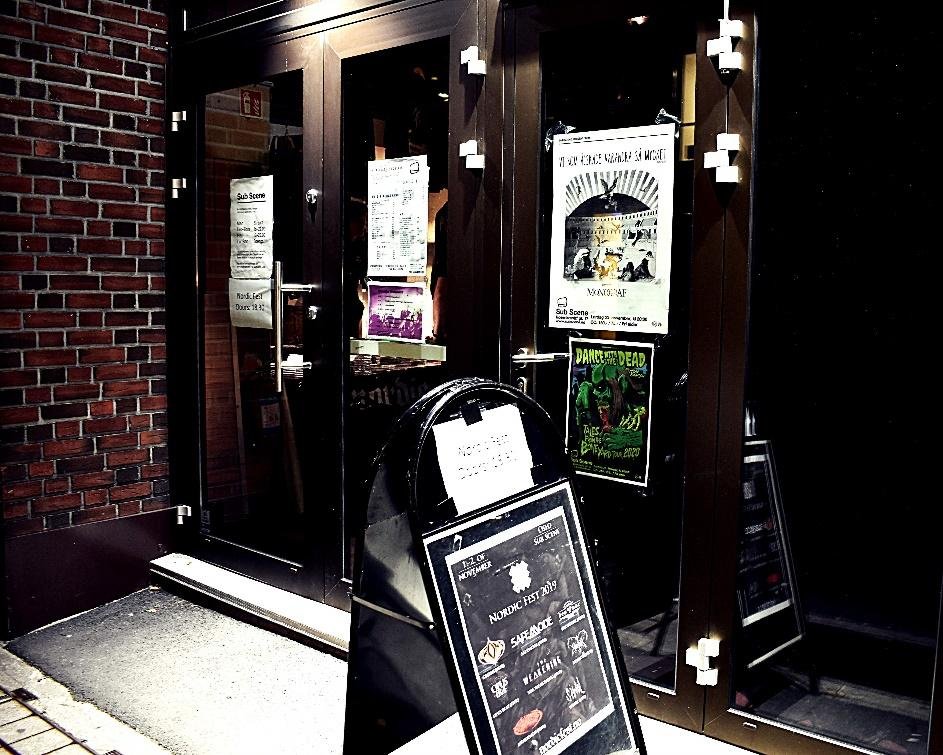 And once again, Nordic Fest was more than just music as we welcomed back Metalheads Against Bullying and the artistry of Nargiz and Gabriella. And on that first night, you were probably welcomed at the ticket table by a familiar face, Ronny of Antestor and MANY more bands/projects!
In fact, there were many familiar faces in attendance, even if their respective bands were not playing. So, it was a wonderful time to unite in faith and in the metal family.
Starting off the first night was The Weakening. It was actually their first show in 10 years though they recently released an album on Nordic Mission's label. This Sweden metal act was a great way to kick off the festival and instantly got everyone ready for 2 days of metal fellowship. And if you're not familiar with The Weakening, be sure to check out their album Chains of Plato.
Next up was the ominous, orchestral blackened metal band from Germany, Opus Irae. In speaking with their drummer earlier (whom I believe was also in Sacrificium at one time), I was warned that their stage show is one in which they perform in an almost stoic/distant manor and do not engage with the audience, even adding corpse paint to their visual aesthetic to create their target atmosphere of mystery. If you like your extreme metal esoteric and symphonic, this was quite the treat!
I think it is fair to say that many at Nordic Fest, myself included, were not ready for the brutality and magnificent energy brought by Antidemon! This 3 piece Brazilian metal band, with an alternating guitarist spot, got the entire place jumping and headbanging. In a high energy mix of Grindcore and Death Metal, Antidemon brought their 25 years of experience and passion for God, accompanied by the heaviest of blast beats, to the cold North of Europe!
Finalising Friday night's action was Safemode, also hailing from Sweden. This heavy 4 piece was the replacement for War of Ages amidst the cancellation of WoA's European tour. And I actually can't think of a better replacement. Not being familiar with their music, I was quite pleased to hear this metalcore foursome tear up the NF stage with a well-played combination of heavy and melodic songs.
Ending a little before midnight, those catching the bus to The Cave moved on to their overnight accommodation.
And now we head into Saturday with a full day of programming.
After the day's soundchecks concluded and the doors were opened, concert goers entered to find tables and chairs in the place where the night before they had just been standing. Batista of Antidemon delivered a message about surrender to God and used multiple illustrations from the life of the Apostle Paul. Photographer Gabriela Marcolino did an amazing job translating from Portuguese into English.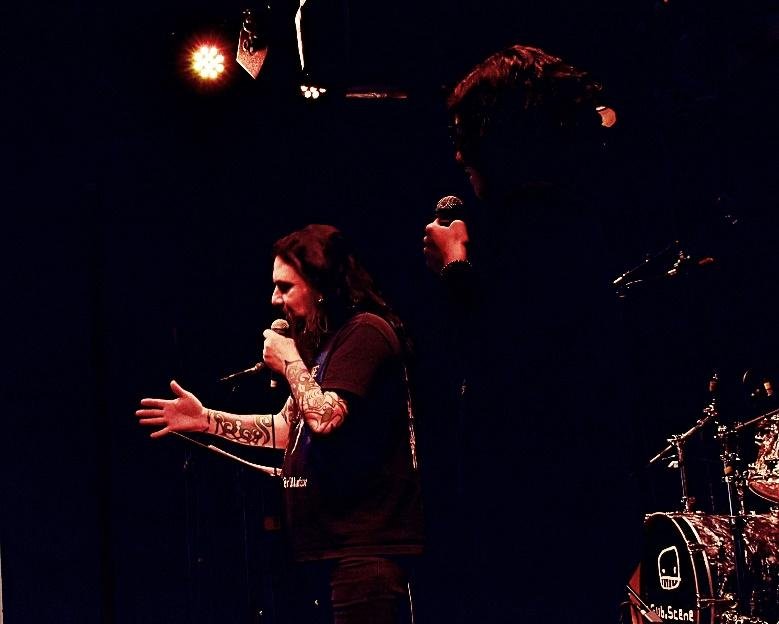 After Batista's message, Karl from Pantokrator/Melech took us through a immersive study of the song, Befriare from Melech Ha Olam.
And then the Sub Church Punk Preach Party featuring Flanellgraf was underway. This time of worship and praise was led by the hosting church's very talented musicians and really carried the joy of the Lord through their leading of this time.
Another exceptional part of the programming was Haakon and Øyvind of Groms, willing to take us back to the early 1990s and talk about the history of this very special band. The folks at Nordic Mission invited me to conduct the interview and it was a very special time for me and everyone else in the room. When asked how this Groms reunion came about, Øyvind talked about how some "Nordic" guy messaged him on social networks but he never responded.
A year later, the "Nordic" guy made another attempt so this time Øyvind responded, and soon after that, this amazing Groms reunion was underway. There was one particularly interesting and kind of humorous story about a death threat Groms received while performing their style of music with a positive Christian message. That death threat was received via "telefax". At the mention of this method of delivery method, the room broke out in laughter. And Haakon still has this fax, among probably every letter written to the band, to this very day!
I did ask about the future of Groms for recording and performing, and much to many fans' disappointment, this is a one-time thing. Though Øyvind did say the next one could be set for 25 years from now but Nordic Mission would have to start emailing him 20 years from now. So, that made the evening bittersweet. Sad that it was only one a time thing yet because it was a one-time thing, Nordic Fest 2019 was a very momentous occasion of nostalgia and celebrating the impact on metal that Groms has had.
Following the Groms interview, an amazing dinner was served. A friend of Nordic Mission, who happens to be a hunter, donated a substantial portion of elk to the event as well as a good bit of some extremely pricy mushrooms that went into the glorious Hunters Stew. It was a gourmet dinner at a price below even the fast food joints in town! There was also a vegan option of Indian Stew.
And so, tables were cleared away following the dinner and the stage was being set for a 2nd night of music.
We also heard from Sanctuary's Pastor Bob Beeman. Pastor Bob pre-recorded a message for us expressing his wish that he could be there with us celebrating Nordic Fest 2019. He also expressed his appreciation for the festival raising funds for the Bridge Bunch!
So far, it had been a very wonderful time in Norway for this incredible event. Earlier I had met up with Hortor at a café as we made our way to a rehearsal space. It was actually a hotel. It was the first time I had walked into a hotel where drumsticks, ear plugs, guitar strings, and other gear were available in the lobby. It was definitely the first time I had ever been in a hotel that rented rooms by the hour but the spaces provided a nice set-up for plugging in and getting into the music quickly! It was very cool as we don't have things like that near where I live so I was very intrigued.
That being said, I got a good taste of what the guys in Hortor were about to bring to Nordic Fest 2019. And I must say, they did not disappoint! This three-piece from Mexico played one of the tightest sets of Black Metal I have ever heard. They were "right on" in their execution of every song and gave glory to God through it all!
Sawol from Finland was up next. Their Doomy-Grungy Finnish metal was such a great addition to the festival! Not being familiar with their musical catalogue, I would say their live performance is right up there with Finnish peers such as Swallow the Sun or even Wolfheart. This marriage of extreme to darkened doom music scapes was very much welcomed by the crowd gathered at NF19!
Next was the charity auction/lottery followed by coffee and cake. This was a great way to raise money for the Bridge Bunch with many exciting prizes. The coffee and cake were a great opportunity for fellowship.
Having had to leave for a moment between the coffee & cake and the Groms set, I was 5 minutes late returning and missed the first Groms song, Ascension. I was disappointed but extremely happy to hear all of the songs to follow. In fact, this band sounds just as good as any band today. You wouldn't know they were on a hiatus from the mid-90s! They sounded like they had been playing together for the past 25 years! Their thrash style of death metal really is second to none. I love the album but there really is nothing like hearing Groms live. While I know a big portion was being blessed with the best sound engineers in Norway that I've ever heard, the skill of these four guys is nearly beyond words. And not only that, their individual skills worked so well together, creating musical chemistry that was of the highest calibre.
When the end of their set came, it was obvious no one wanted them to leave the stage. I think they had won over everyone in the room there, even if when they arrived, they were not originally fans. And so, Øyvind said since the first song, Ascension, wasn't played to the standard they were happy with, they were going to do it again! Yes! I technically got to hear every song on the set list so that made me very happy and I think everyone else was happy to hear it again too!
Up to this point, every set started on time, but Drottnar's show took a while to set up so it started a bit late. Fortunately, they would have enough time to play and still get the people heading to the Cave to their transportation on time!
And so, the progenitors of Bunker Metal dominated the headlining spot of Nordic Fest 2019. They were just amazing! These four guys really execute their art very well! But after about 5 songs, they went "old school". Very old school.
Nearly knocking me over, a uniformed figure rushed the stage with a case containing a bullhorn. It was at that time, Drottnar announced a reunion with "The General", taking us back to the era of Sven-Erik and the Stratum album. After 3 songs from that era, they returned to Monolith performing the album's title track.
Yes, that was Nordic Fest 2019. Nordic Fest 2020 will soon be upon us. I recommend you start making those plans now. You won't want to miss it!
JR Rife for The Metal Onslaught, November 2019 Online at: www.facebook.com/RevRife
Podcast at: https://open.spotify.com/show/2WM8MlOGdQy75ORJ7iCozW?si=bzs0rEAPSJiTQtOM2ALbtw
All photos property of JR Rife except for "Groms interview", used by permission from @NargizKuntz
Thank you Nordic Mission and Sub Scene and everyone else involved in making this a great festival!