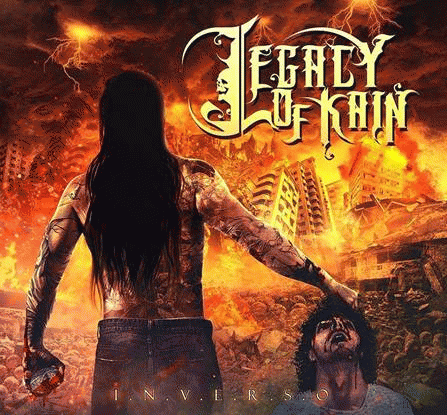 Brazil is the kind of nation that thrives on metal of old and current standings. With some of the biggest metal fans in the world, very loyal to a T is an understatement. Their biggest metal export Sepultura put Brazilian metal on the map and ever since has been breeding an army of bands from all walks of the metal community, with their main love of heavy metal, thrash and extreme metal.
The Christian metal community is no different with their love of the hard music genres as they live to bang heads and be a force that is ready to make some serious noise.
Bands such as AntiDemon and Legacy Of Kain are making a mark within the metal world, which is seeing an uprising throughout the extreme genre. Inverso brings you the elements that Legacy Of Kain have to offer. Purely all in the Brazilian language, it still doesn't take away from the music the band are trying to achieve and produce, as any English-only speaking individual will be able to enjoy this offering. Even from the beginnings of "Condenados" automatically you sense the intensity and musicianship of the band creates the foundations of the tightness and of how well they know each other, through their craft. Blending thrash metal and progressive death metal elevates the platform for Legacy Of Kain to push further along their musical ventures.
Title track "Inverso" adds to the plains of extreme speed metal aspects that blows you away, constant breakdowns and riff changes give you the perception of a band not afraid to show their creative spirit. In some cases bands tend to lack in this kind of quality of confidence in their own ability. Many times throughout the album, bold constructive diversity comes into play with dabbings of deathcore/metalcore, which to be able to pull that off is quite remarkable as this band doesn't get tied down to a certain genre or sound, especially with the songs "Legado" and "DF".
Vocally raw, clear and precise Markos Franzmann produces a fluent, consistent quality that you hear from a vocalist of a band once in a while, which adds to the brutality aspect for a bolder and more rounded sound.
Other standout tracks include "Vozes", "Tudor A Perder" and "Epiphania" which expands their melodic range and unafraid approach to their craft. Blistering effects of brutal proportions, high quality of speed, solos, aggression, groove and direction, that takes Legacy Of Kain to the levels that a lot of independent bands seem to struggle with without a major working label behind them. Even their final track "Não Justifica" is as good as the rest of the album, ending with what they began with. Ultimately, Inverso cranks at high volume and proves that quality continues and remains in the world of metal, which the professionalism, resolve and creativity from Legacy Of Kain is shown over and over and over again. Great album.
Christian Sullivan 10/10
Visit – www.legacyofkainbrazil.com.br