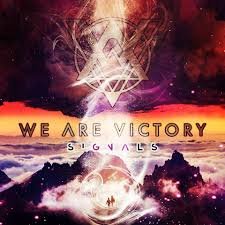 )I happened to have stumbled across these guys called We Are Victory, which I never had heard of the band before, but just came over my news feed.
We Are Victory hail from the music capital of the United States in Nashville, Tennessee and have been signed by Sancrosanct Records. I nabbed a copy of their debut full-length album Signals and decided to spin it a few times to see what the band had to offer. Consisting of members Jay (lead vocals), Bobby (lead guitar/vocals) Lael (lead/rhythm guitar), Nate (lead/rhythm guitar), Hal (bassist), and Jośe on drums, these boys describe themselves as life metal.
We Are Victory… at the very start, you become very well aware that the band are part of the new breed of experimental pop, metalcore with spoken word and clarity of vocals, plus a balanced mix of growl/shrieking vocals with various breakdowns – and even involving dance music keyboards which is quite unique for any heavy band.
Quite a lengthy debut of a 14-track release from the group blends the elements of current trends within pop music, metalcore and emo to some point. The highlighted tracks "Transmission", "Never Giving Up", "All Of Me" and "The Answer" give you a unique blend of all the band tries to achieve with their sound and creativity.
9/10 – Christian Sullivan 2018