Rottweiler Records as we all know have been signing bands from all walks of the rock/metal community, no matter what country they reside in. Bands from the USA, South Africa, India and so forth. The quality of music is getting so much better through labels like Rottweiler. Taking The Head Of Goliath are one of those bands that show up once every few years creating exactly what they want and do it with ease…..
Since their initial Beyond Brutal – Live EP from their first ever live show supporting the now disbanded For Today, Taking The Head Of Goliath had lost their original drummer Matthew Vangsgard but, then shortly introduced former Crimson Thorn hard hitter Steve Reishus to the fold. The band had started to record their studio version of Beyond Brutal. After months and months of waiting, the self-titled EP is finally here.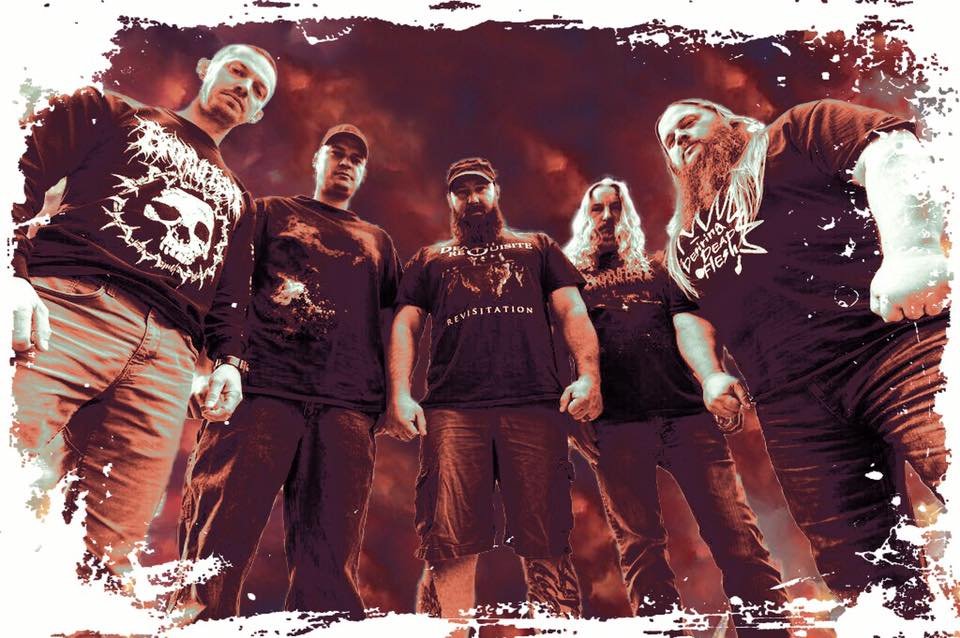 "Of Sin & Death" starts the EP with eerie sounds that signal you are about to stumble upon something sinister, until "Oblivious Into Oblivion" grinds your butt off with Jake's naturally low guttural growls and shrieks, also with their smashing madness, intensity and brutality keeping the motion of the impact expected within.
"The Expulsion Of Putrid Illusion" cranks out a stellar sequence, hard-hitting with the highly impressive speed and accuracy expected for death metal, with a quality of melodic, larger-than-life bone crushing mayhem that allows to keep the traditions of the genre.
Next up is the track "Trenches" machine gun fire riffs with blasting and blistering bombastic beats, a Cannibal Corpse feel to the melodic texture throughout. I would say this song is the weakest so far of the effort shown, but having heard this EP a few times I know what is to transpire over the next few deliveries.
"This Present Darkness" heats up the furnaces, as this track is featured in Rottweiler Records' The Pack Vol 2. Reminiscing back to yesteryear as the death metal genre was being performed by the masters in command in the mid-to-late nineties, gives you the respect needed as TTHOG take you back to the way the genre dominates the extreme metal circles that is expected for such a group as this, with organic riffs and blasting beats, timings of a genre not yet dead.
"Audacity To Inspire" is exactly that, inspirational licks, riff-mongering intensity that gives through back and forth energy, breakdowns, and fluidity subject to keep the listener intrigued until the song's final demise.
Finally, a Crimson Thorn cover "Unearthed" which from the original release, is certainly one of my favourites and when you have 40% of the former members of the band in Taking The Head Of Goliath, you know that they will hit the mark. For a cover it wasn't too bad, however I do still prefer the original.
My verdict is pure and clear, it certainly is what I expected, a full and solid release from one of my favourite death metal bands.
8/10 – Christian Sullivan