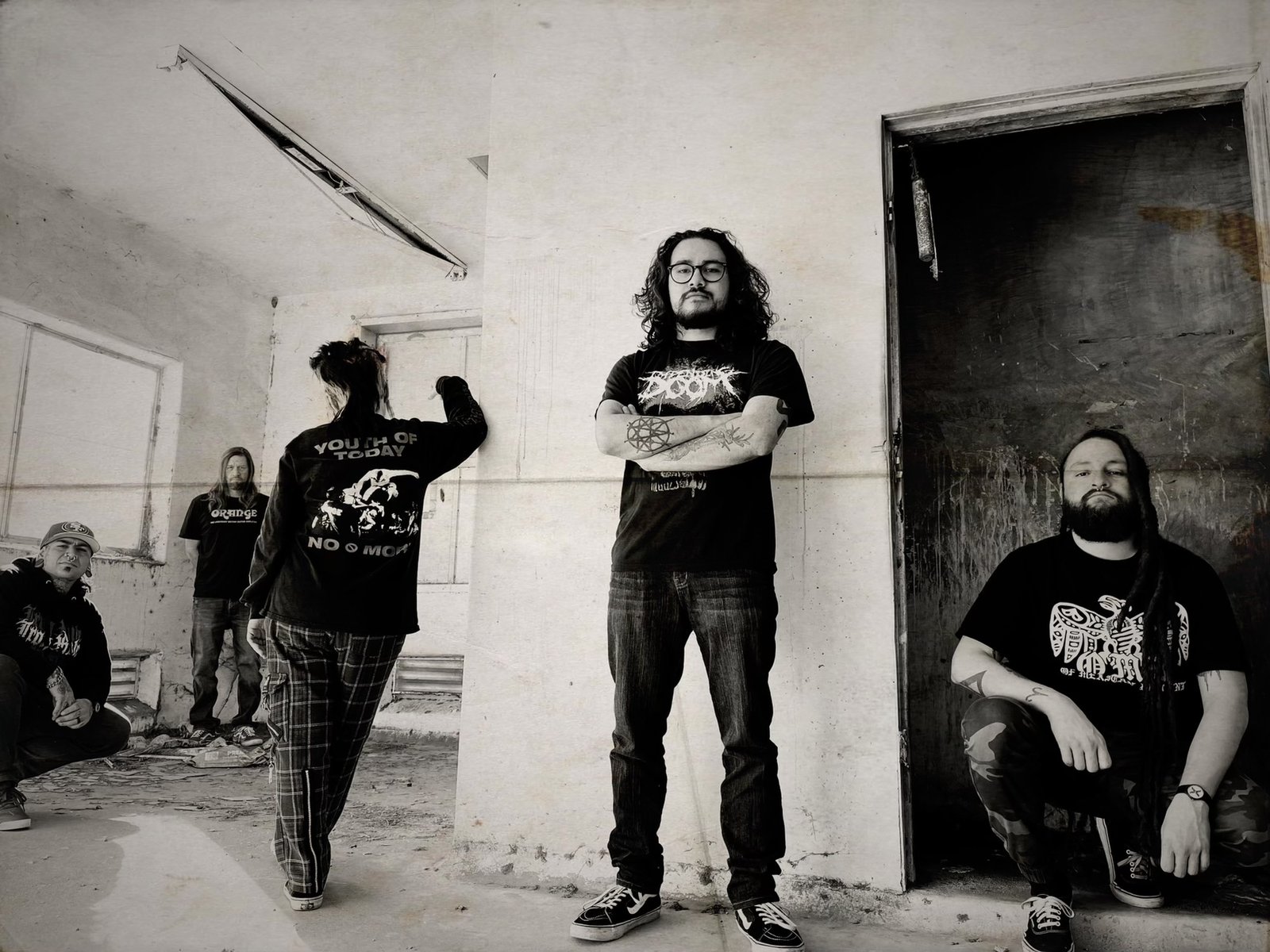 When you consistently review music, you try and be as upfront and to the point and as constructive you can be. I will never shy away from my personal thoughts in this even if I am about to review the latest release from my friends in xDoulosx based in Riverside, Southern California…
It was wonderful to see these guys get picked up by Texan metal label Rottweiler Records in the beginning of 2023, which I'd kept quiet about until their official induction by the label alongside other great bands such as Voluntary Mortification, Brotality, Broken Flesh and Pantokrator.
The hard-working group have been a regular staple in the SoCal hardcore scene over the last few years, and quite frankly deserve the recognition that they have been working tirelessly to achieve. Their previous EP The Middle Man (2021) on Thumper Punk Records, showed the fruits of their effort in the Christian music scene, to follow up with a debut full-length album Birth Pains, which was dropped a couple of days ago or so.
Band:
Eddie Blanco – Vocals
Melanie Blanco – Bass
Ezza – Guitars
Noah Cortes – Guitars
Jeff Young – Drums
Track Listing:
Offering
Burn Out
Shots Fired
24th Thesis
Calamity
Grovel
Birth Pains (Ft. Jon Davenport)
Cycles
1375
Kicking off the album is the track "Offering" which starts off slowly, and then enters into a classic hardcore riff. Only one line of lyrics is screamed on this one as it's basically an instrumental of sorts, but gives the listener some sort of an idea on what to expect.
Next up is their second released single "Burn Out" which happens to be a personal favourite, as I've heard two versions of this tune. Again the use of classic hardcore tones and melodic strategies are achieved with a well balanced vocal delivery. Their guitarist Ezza expresses a wonderful display of fast-paced rapping, with a low tempo sway, and then picks up the riff to compliment the melodies. A great song to continue our journey.
"Shots Fired" is a punk-infused song, which again I've heard another version of this also. Fast-paced, quick as is expected from melodic street punk. A great song live too, if you haven't already heard it, this single just reveals the punk roots of xDoulosx, you'll especially enjoy their return to hardcore which fits in with the most perfect timing. Definitely shots have been fired.
"24th Thesis" begins with Southern-style acoustic rock, which I found refreshing, until they crunch again into their hard-hitting sound. I'm so enjoying the tempo that they use, as I just picture myself with my hands behind my back as I rock to the beat side to side. Highly danceable and well structured riffs, continue with a heavier bark of vocals. A great mix of well utilized tones, breakdowns and melodies makes this track a complete mind blower. 
As you may not be aware, vocalist Eddie was a complete fan of rap in his younger days, and still is, which is basically what "Calamity" is all about, a straight up West Coast gangster rap tune that's very well put together.
"Grovel" is just fast-paced punk, pure and simple, can't really say much more about it, however they mix melodic undertones near the end of the song, which gives it that extra edge. 
Their title track is up next and "Birth Pains" is no slouch, this delivery features Jon Davenport from upcoming Facedown Records deathcore giants Cultist. Still melodic in places and well-balanced, however more slow-paced this time around. If you like old school hardcore with a modern spin, you're in for a treat.
"Cycles" comes at you like a bull in the gate, aggressive, brutal, again with a well balanced delivery. And this is yet another track we have had the pleasure of listening to another version thereof. Breakdowns galore with super heavy guitars and guitar squeals to boot (which I love). In your face, goodness, quicker tempos and expressing more of exactly what you've experienced throughout this record.
To close out Birth Pains comes "1375", finishing off strong with this tune as their hardcore prowess continues to impress throughout. Hints of an alternative feel and some ballad-like riffs with a complementary breakdown and chugging guitars, complete with Mel's ending bass line, just adds that flavor of what the identity of xDoulosx is really all about.
Overall verdict, just WOW. Such a great debut album from the band, which have put in the hard yards for so long and quite frankly have achieved exactly what their full intention was with this recording, taking their sound to its utter limits with absolute expertise.
Christian Sullivan – 10/10 The Metal Onslaught Magazine