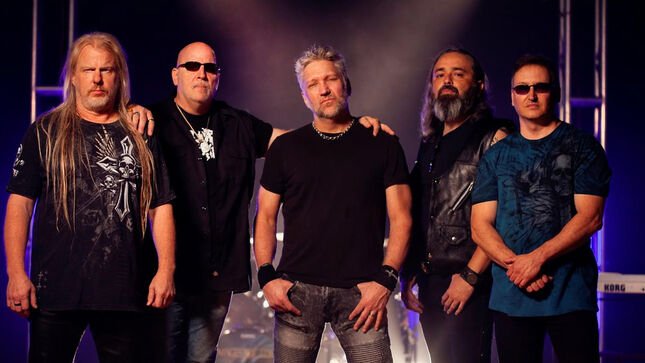 These guys in Images Of Eden just keep on working up a storm, with constant touring and now after 18 months since releasing their latest full length Angel Born (2021) and a national tour with Yngwie Malmsteen late last year, the group are embarking on yet another national tour later this month, with Michael Schenker (Scorpions/UFO), who is on a world tour, to celebrate 50 years in the music industry and supported by Mr Big vocalist Eric Martin.
(see dates @ the bottom of this review)
Enter their brand new EP Weathered And Torn, in which vocal beast Gordon Tittsworth mentioned during our interview with him on The Metal Onslaught Radio Show on TMO Online Radio (LIVE365), that it took only months for the whole process of writing and recording to meet the deadline for making the 16th of September release date through their label Pavement Entertainment.
Tracklisting –
Count To Zero (4:10)
Survivors Guilt (5:09)
Weathered And Torn (4:16)
Coexistence (4:59)
The Dead Me (4:16)
Band Members –
Gordon Tittsworth – Vocals and Rhythm guitar
Steve Dorssom – Drums/percussion
Eric Mulvaine – Bass
Carlos Urquidi – Lead guitar
Dean Harris – Piano/keyboards
Lo and behold – the deadline was met – and I tell you what, when Gordon promised "Its heavy….." in sound he isn't wrong.
Kicking off with "Count To Zero", the song is very diverse and expresses the more heavier aspect of metal, rather than their classic metal tag. The interlude and chorus shown is not only melodic, but flows wonderfully with a liquid-like energy that is smooth on delivery, with the use of double bass that captures the aforementioned heavier take of the band's direction. Many differences are found, even in this one track, which certainly keeps the listener interested.
Their radio single "Survivors Guilt" is introduced at this stage and more hard rock driven as they expand on their new content. Still, moving with a melodic chorus in which, I find is a constant aspect within their songwriting, a well balanced and executed solo is also thrown in for good measure. The title track "Weathered And Torn" continues the journey and marks the halfway point, the song is more bellowing than the first two, and sassier than I've heard before. A solo kicks in early on, however continues with the bombastic notes, and more so reminds me of Black Sabbath, as it has a mix of that darker element, in which was a step towards fulfilling of what I believe, they were working towards.
"Coexistence" took me by surprise as a lighthearted growl was introduced as the name of the song, Images seemed to decide to get heavier still, which I'm thinking….. Huh!! The odd growl is added throughout their time within the track, adding synths was a nice touch also. It's not bad by any stretch of the imagination at all, but my guess is if you progress as a band then, I respectfully applaud the move. So any bands reading this, that is my advice for you.
Their final song "The Dead Me", finishes off this EP with elegance, the heavy element doesn't go away however, but the melodic nature of this particular beast of a band has shown all aspects of what they can do, in all facets of creative musicianship and songwriting. A ballad-like solo to this song just intensified the overall incarnation of the single and ultimately the final product.
My verdict stands that Images Of Eden have developed a quality release with their new EP Weathered And Torn, production and mixing could have been a little better, but hey when you have a time frame to uphold with the EP, then you RUSH the EP!!! To be completely honest, it's a great record throughout.
Weathered And Torn will be available digitally and on CD on Friday 16th September 2022, via ALL streaming services, including Spotify and iTunes.
CDs can be found at www.imagesofeden.com and www.pavementmusic.com/shop
Christian Sullivan 8/10 – The Metal Onslaught Magazine