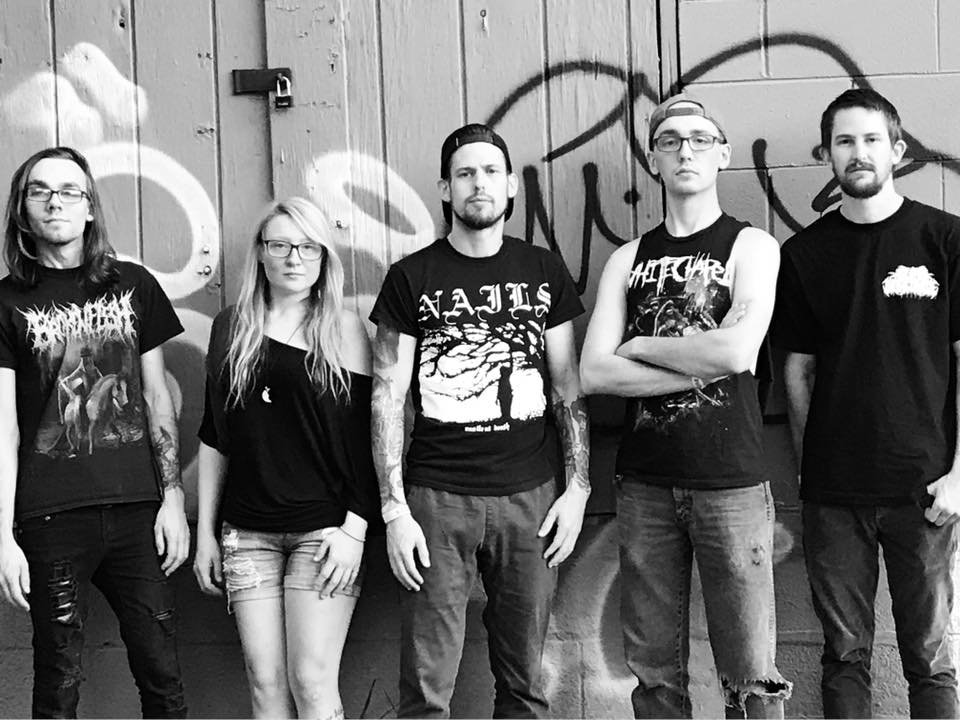 Artist: Abated Mass of Flesh
Album: The Existence of Human Suffering
Release date: 4/24/2022
Reviewed by: John Wesley


Review:

They aren't for the faint of heart. They aren't for the typical "soccer mom" taking her kids here and there with K-Love playing in the car. Your grandma will probably hate it. Your pastor might start worrying about you once he finds out you jam one of the most gruesome heavy bands in the scene: Abated Mass of Flesh. Hailing from Murfreesboro, TN (a little south of Nashville), these guys know how to "slam for the Lamb." I've been able to see them live a few times and their performances always make for a great time. They get the crowd going with vocalist Matthew Plunkett's ferocious guttural vocal style leading the rest of the heavy hitting line-up consisting of his brother Zack on guitar, brothers Riley and Thomas Wingate on drums and guitar respectively and their step-sister Amber Wingate on bass. Though these are the folks you'll see in the live line-up, their new album, The Existence of Human Suffering, released April 15th, 2022, was recorded by the Plunkett brothers and Joe Pelleter of Peeling Flesh taking care of the drum duties.


This album is relentlessly heavy and unapologetically sonically unforgiving. Sporting 8 tracks, there are no "soft" moments for these guys. Throughout all 8 tracks we get intense drumming, boomy bass, aggressive guitars and eerie atmospheric leads. Compared to previous work, the notable difference with this album is the production quality. Their audio quality in the past has consistently had a somewhat "raw" feel to it but this album is polished quite nicely. Some may speculate it's not as "heavy" because of that but trust me, it's the same songwriting guru Zack Plunkett constructing these brutal ear-assaults.

Track 1, Realm of Contorted Perceptions kicks the album off with a short unsettling soundscape with flies buzzing around your ears as if you're witnessing the aftermath of total carnage. The main riff of this song swings out of the gate and we have lift off! Everything comes in together and Matthew delivers his signature gutturals leaving any fan of brutal death metal totally satisfied with the onslaught. The breakdown around the 3 minute mark is simply savage and you can't resist headbanging along. This is an excellent opening track that sets up the flow of the rest of the album nicely.
Track 2, In the Absence of TIme keeps the energy going with a super crunchy, mid-tempo, atonal sludgefest of a riff. Very reminiscent of Chelsea Grin or Whitechapel style of riffing. With double-kick spurts in the following riff, it's very hard to not like this song. It's probably one of my favorites.
Track 3, Endlessly Carving picks up the tempo a little bit and we get more atmospheric guitars with pummeling tremolo riffing. The song becomes very intense around the 2:10 mark and then there's this simple breakdown featuring some punishing drum work.
By track 4, Throes of Deprivation, you attempt to put yourself back together as you have just endured 3 brutal tracks but there's no sign of slowing down. We are not even halfway through and we have been given everything we can expect for the rest of the album. This album is very consistent in the song-writing as they almost blend into each other seamlessly.
Track 5, Chambered in Unearthly Decay, picks up the pace and sports a "somewhat" melodic atmospheric section for a little bit then jumps right back into the slams. The harmonizing guitar riff about half-way through the song provides a nice break from the constant slam-style guitars. The bridge to this song totally rips as the guest appearance of Jordan Casey graces the listener with his "tough guy" vocals giving the track a nice dynamic change before going back to the tried and true Plunkett techniques.
Track 6 is Into Hell, Into Shadows. Opening with a crushing "two-step" style riff, the brutality continues on unleashing absolutely pit-worthy, filthy death metal. I find this song to be a "sister-tune" to track 4 as it showcases a similar flow and form.
In track 7, Esoteric Mutilation, the pounding continues. Will there be any relief? If it's too heavy, you're too old! At this point, some of the riffs start to sound borrowed from previous sections of the album. There's another cool atmospheric lead just before the 2 minute mark.
We arrive at the final dose of this menacing, ruthless album with Maze of Detestable Afflictions (best song title award winner!). This is one of my favorite songs because there are more harmonized guitar riffs that give hints to leaning more melodic but of course once you think it's gonna head that way, this album turns around and gives you one final breakdown so you don't think it's gonna get soft. At the 2 minute mark comes my favorite section on the whole album. It's so satisfying to have a "psuedo-melodic" part. These guys could be pretty if they wanted to. One final breakdown follows this passage and then the album just ends, leaving you wishing there was either a soundscape to fade out with or an even slower, slammier (it's a word now) breakdown.
Lyrically, The Existence of Human Suffering takes an honest look at what goes on in our heads. The topics for this album were inspired by the band's supporters and the struggles they have shared with the different members. Taken from their bandcamp page, the band writes in the credits:
"…we received many stories from you; stories of hope, despair, love, loss, restoration and suicide. We explored these stories to build a theme for this album. 'The Existence Of Human Suffering' is a message: that we suffer together and are made stronger through shared experiences."
Though this album may be too much for some, one thing cannot be denied and it's the genuinity and transparency of the lyrics. I'm thankful that the Christian scene has extreme music that isn't afraid to go into the depths of human emotion and reasoning. We all struggle but it doesn't mean we have to go through it alone.
The Existence of Human Suffering is an unrelenting and punishing album that is a must-listen among any fan of brutal and slamming death metal. I can say from experience that Abated Mass of Flesh is an incredibly underrated gem that deserves all the love and support they can get. Great job on the new album fellas!
Overall rating: 7/10
Top 3: In the Absence of Time, Chambered in Unearthly Decay, Maze of Detestable Afflictions
For fans of Impending Doom, Taking the Head of Goliath, Broken Flesh