Since the conception of the magazine, we have interviewed a number of quality musicians over the years, with the likes of Dale Thompson, Gary Lenaire, Klank, Wretched Grave Robber and others. About 2 weeks ago, we took some time and spoke to our good friend bassist Roger Dale Martin from the Vengeance Rising fame. We discussed Vengeance Rising, the new album Roxology and advice to musicians.
TMO: How have you been, have you been alright?
RDM: Yes, been doing very well, yeah, things are going good, Christian, can't complain.
TMO: Yes I remember meeting you, I think it was with Jim Settle, when he invited me and Danelle to come and see you guys, I think you had a long day of practice with all the guys, you guys were having a bite to eat and we sort of all met up, but everyone was definitely knackered – well tired as I should say.
RDM: Well I remember meeting you guys for sure, I definitely do, and so yeah that was what was going on, we'd been recording or rehearsing all day long so we were tired.
TMO: So how long have you been in Nashville for, then?
RDM: I've been in Nashville since 1994, believe it or not. I was in California, in Southern California, from 1984 to 1994, ten years. And that was when all the Vengeance stuff was going on. I moved to Nashville in 1994 and I have been here ever since, so what is that – 27 years! Dang!
TMO: I know the feeling, I mean I spent 13 years living in the United Kingdom and it only just feels like yesterday that I arrived there, yeah, how time certainly flies, it's just crazy. Especially with the things that you've done and how, where life takes you, I always find it, it's just insane how when you think about it in the end you think, man has it been that long?
RDM: Yeah and the older you get, Christian, the quicker time goes, huh?
TMO: It does!
RDM: It seems that way anyway…
TMO: It does, I can't believe I've been married to Danelle for three and a half years, and it only feels like basically only a few months ago we were on that beach getting married, it's crazy how it all works, and yes like you said the older you get time seems to go quicker! So are you doing anything with the Vengeance Rising music at the moment, or is that on hold?
RDM: That is just, we're thinking, we're brainstorming, I originally did what you might call a Facebook survey, just kinda to get some people's opinion, would they actually want another Vengeance album. Basically we had like 365 comments and about a tenth of those, about 32, were absolutely not, do not do it, leave it alone. Of course Martinez is not gonna be in there or anything like that, so we're thinking about what we want to do, but nothing is decided. I'm just kinda hanging loose and we'll figure something out.
TMO: Yeah, of course. So is Jim still doing vocals for Once Dead at the moment? Because I know he's focusing a lot on his Powershift band.
RDM: Yeah when he did the gig with Once Dead, I want to talk about that a little bit, I thought it was fantastic, a four song EP, and of course Jim Settle did vocals on that and Roger Samson was on the drums and it was me, Doug and Larry. And so the Once Dead project, it took us a while to do, the way I like to record. I think it was great, and recently you know I did the Facebook survey, it actually was on a page called Vengeance Rising Once Dead Fan page and I asked everybody who bought the Once Dead album, Ghost Tribe, and most people said "I don't know where to get it," anyways we had a distributor and he let everybody know and also I believe that we may get a physical product coming up here pretty soon, we're talking with Roxx Records about that right now, we're in the negotiation stage, we may have a physical product for people who want Ghost Tribe by Once Dead.
TMO: Yes, I know Anthony Gober, he's become one of my closest friends, I know Anthony had been selling that EP with the Christian Band Shirts merchandise, he was selling the EP via his website, that's where you were selling it, I think.
RDM: Well Anthony was on top of it, whenever anyone would come and say "I can't find this thing", he was right there with a reply saying "here it is right here, on Christian Band Shirts" and I was impressed with that, I liked that, he was hustling, and I thought that was very cool. And so that's for Once Dead. So hopefully that will work out and people can buy a physical product, because that was one of those things that we really weren't aware of, we didn't go the record company route. I thought people would download the thing and be happy, and we were giving away a t-shirt and that was our approach, but we got a lot of response from people saying hey we want a physical product, we're not gonna download jack…(laughter)…And so that may happen, we're in negotiations, hopefully that will happen and everyone will get a chance to get Once Dead, Ghost Tribe, the four song EP.
TMO: Do you think a 7″ vinyl might be in the cards for that? Or do you think you might just stick with CDs?
RDM: I don't know…I can't say at this point.
TMO: So you've got a new album coming out thru Roxx Records, called Roxology, which I have actually had a listen to, and I was really impressed with how it is completely instrumental with no vocals whatsoever, a completely instrumental worship album. What gave you that inspiration, or that idea?
RDM: Well actually, Christian, I was invited into the project. There was five people involved with this and I received a call from a guy named Chris Dorman. Chris is a podcaster, he is a Christian podcaster, he has an intellectual mind and he is very smart…I'd call him a theologian, he studies and he does a podcast with Don White, and those guys, they have Nick Clayton, he's a musician from Vancouver Washington…he's just awesome man. And anyway Chris said to Nick, I'm doing a study on a song and I would like you to do an instrumental so I can put this instrumental on my podcast, you know? And the first one that Nick did, it turned out really well, he just did it himself, he recorded everything on it, the first one that he did was "Oh The Deep Deep Love Of Jesus" and everybody said oh this is fantastic, you should do a whole album. And so he started it, he wrote a couple more, and then they were all excited about it, and Chris Dorman comes along and says Roger, there's this guy named Nick and he's looking for a writing partner to help write these songs, and I'm going yeah – send me the stuff! And so I didn't know Nick and so he handed me Nick's number and I called and said hi to him. Nick was fantastic, he was very professional. He sent me what he had written already and I was going, man this is great! And so right off the bat when I talked to him, we talked business, and we just decided to form a partnership and that's what we did, a production team and a writing team and right off the bat I started, I played some bass tracks on the songs he had too, about three of them, and we started writing together. And we came up with ten tunes, and it went pretty quick. I'm real happy with it. See, these guys, it was the other guy that was in on it, his name's Scott Herrin and he's a podcaster also. These guys podcast for, at one time, Sanctuary – Sanctuary International – I don't know if you are aware of who Pastor Bob is –
TMO: Yes, oh we all do, yep.
RDM: We were in his podcasting team, I did some podcasting back in 2020, and so those guys, they really started getting into the project and they started building a website, and of course it was all instrumental, there are no vocals. Nick did all the guitars, and I played all the bass tracks, and Nick did the drums and one other guy did the drums on the song "O Holy Night". We prayed for each other a lot, ok, and the guys, we kept up with each other, and it was like there was five guys in the band even though it was just Nick and I that were actually recording. We got a lot of inspiration and a lot of encouragement. I heard about it in August last year, in 2020 when everybody was locked down, and you figure something out….I don't know…but I had plenty of time and that was another thing that went quick, I had a lot of time, and it just went really fast. And our goal, when I talked to Nick, he said Roger I want to do ten songs and I want to be thru by Christmas Day. And I said, let's do it! And that was the goal all along, and we actually finished the whole thing on Christmas Eve.
TMO: Oh, wow.
RDM: Yeah and our last song was one, it was "O Holy Night" which is a Christmas song, and I thought that was fitting, we thought that was perfect; now on the album it's not the last one on the album but it worked out pretty good. Afterwards in the beginning of 2021, I got ahold of Bill Roxx, he owns Roxx Records, he's done a lot of stuff with Vengeance, he's a fabulous guy, he's got a great record company. I presented to him and he was really interested and anyway, we started talking and next thing you know I signed a record deal with Roxx Records and the thing came out right at the first of June this year. And it's doing great, it's on lots of different platforms. but one of the best things about this project is the website. The name of the album is Roxology – Unearthing Majestic Hymns From the Catacombs. What it is is these old, old hymns that have stood the test of time. We're talking about, I'll go ahead and list them all: A Mighty Fortress, How Great Thou Art, O Holy Night, O The Deep Deep Love of Jesus, Nothing But The Blood, The Old Rugged Cross, They'll Know We Are Christians By Our Love, It Is Well With My Soul, Holy Holy Holy, and then another one called I'll Fly Away which is kind of a bluegrass… but we won't talk with that one. Did you get a chance to listen to it?
TMO: Yes I did, I did listen to a few songs, and I was literally sort of taken aback, I was like oh wow this is really cool! I think the only record that I ever sort of remember vaguely for, as like a praise or worship album, especially when it came to hard rock or metal or anything like that, was Metal Praise back in the early '90s. So it's, yeah I thought it was really good, like I really enjoyed it, it was certainly different especially these days.
RDM: Yeah one thing about how I keep referring back to this website, all the lyrics to the songs are written in the website, and actually when you buy the CD all the lyrics are in there also. And it really is cool to listen and, you know, you hear the instrument, and you can actually hear the words, if you know the song, and you hear the words and, Nick is fantastic, it's like he makes the guitar speak, that's a fantastic thing. Also, we have the history of these songs and who wrote the songs, we've got articles about the author and what they were going thru when they wrote these tunes and lots of cool stuff like that, I'm just as excited about the website as I am the album! It really is a cool Bible study. You know, back in the Vengeance days, we were pretty successful, because we put the Bible, the Word of God, basically our lyrics, we put that on the album so people could read the lyrics, and on the CDs so people could read the lyrics. Because with thrash vocals, with Martinez's vocals, you couldn't decipher, you know, what he was saying, what he was vocalizing, so you had to read it. And then when people read it they were reading the Word of God, and it's just fantastic how it works. And this is parallel to that, it's Roxology, it's the guitar singing basically the melody, and you can't hear the words, so you have to read the lyrics as you listen to the song. And I like that parallelism. It's out now, you can get it from Roxx Records. Also you can listen to it for free, you can stream it on Apple Music, you can stream it on Spotify, and you can stream it on Amazon Music, and you can buy the thing as a download in the iTunes store, and of course you can buy it on Amazon too, and you can buy the physical product which is the CD, you can get that from Roxx Records.
TMO: That is brilliant, that is fabulous. You seem very excited about this new venture. Do you think you will do something very similar down the line or do you think you will just wait and see?
RDM: Well I would like to. Nick has some ideas. Now, Nick Layton is in a band called Firewolf. I believe they are going to Europe this year, they've got a record deal and they are due for another album, and Nick is writing for Firewolf at this particular time. He's got something else, I can't reveal it, but he's got something else in the works too that I'm excited about. I'm excited about what the Vengeance guys might do, and I got a call from a good friend of mine that I hadn't heard from in a while, his name is Scott Sitchin, fabulous guitar player, and so we were just talking and saying hi, and you never know when those kind of things might turn into something? And Greg Minier from The Crucified, he just moved here, of course I'm from Nashville Tennessee, and Greg – I've been talking to him and he has some ideas about a few things, and I can keep talking about…I got all these things that could possibly happen, you know, which are exciting to me, in fact I've been asked to play bass tracks on a project with – I can't say…
TMO: No, no, it's perfectly fine.
RDM: You see, here's the drag, if I go, we got this thing going here, and it's gonna happen, and it doesn't, I don't care if it makes me look bad but I don't want to make the other guy look bad.
TMO: Well it certainly sounds like you are becoming sort of like the bassist version of Jim Chaffin as a drummer…
RDM: You know I talked to him the other night, Jim Chaffin, he's fabulous, of course and everybody who wants a drummer is calling Jim Chaffin, I don't know how many projects! But, yeah, he's supposed to be a part of this new project too. I wouldn't have mentioned his name but you mentioned his name so… And this is something, it's hardcore. Now I don't call Roxology metal, it's hard rock.
TMO: Yes of course, absolutely.
RDM: Yeah, it's not metal, because see, the old hymns, they're very melodic, and to throw it in an actual metal format, it would be very difficult to actually decipher the songs, and so we took it in a direction of back in the '80s and early '90s, to me the pinnacle of guitar playing was Yngwie Malmsteen, George Lynch, that era. And Eddie Van Halen, those guys are just complete shredders, and so we took it in that direction. We felt like the songs were so majestic and so powerful that we wanted to go into that. Nick is just a shredder, he is hardcore, he is a guitar teacher and he knows all that stuff, of course he can play whatever he wants to, but that's kinda where we wanted to go. Because I was co-writer, there's a blues influence, not a lot but there's some, and also of course I wanna throw some punk rock in there, you know, my big influence is Dee Dee Ramone, that dude, he was awesome, I had to throw some of that in there, and we used some trap beat which is associated with rap, and we threw a trap beat on there with Nothing But The Blood and it turned out pretty dang good, dude. And that's what I am liking. It was reviewed by Doug Van Pelt, he's the guy that owns Heaven's Metal magazine, I don't know if you've met Doug or not?
TMO: No I haven't met Doug, but I would like to, obviously since being here in the US now it's giving me an opportunity to meet a lot of people which is great, you know, God is opening a lot of doors for us. And also too, with doing what I have been doing, especially in the UK and with the magazine and all that kind of thing, it's actually quite nice to sort of meet….Because I mean, you were the guys that I grew up with. When I was a teenager, when I first started getting majorly into metal, it was Vengeance Rising that I got into, it was that era of the late '80s and early '90s that I grew up with. So to me I just think that it's just amazing. But at the same time too I am becoming close with a lot of the current bands, the young bands coming thru, a lot of the guys that have been around maybe in the last ten years or so, so yeah it's just really nice to mix it up a bit really.
RDM: So I presented it to Doug, Doug and I have been friends for a long time, Doug Van Pelt. And he did a real good review in Heaven's Metal magazine, the online magazine. And that was fabulous, and he had one of his staff do another review on it, gave us all the thumbs up, and I was really happy. Doug said everything sounds fresh , the guitar sounds fresh, it doesn't sound dated, like it doesn't sound '90s. Nick had a great tone and of course we put some modern takes on things with the trap groove and it's just cool. He liked it and everybody who's listened to it has really liked it and I am proud of it too. You know I have done a lot of recording and I like most of my stuff, and I really like this disc Roxology because it has the website backing it up, I just love these old tunes. The younger generation doesn't really hear a whole lot of these old classics and we're kinda going to bring that back. And the instrumentals, we didn't want to worry about a vocalist, me and Nick, we just jumped on it and made it happen. Once again we had prayers and support of Don Waite, Chris Dorman and Scott Herrin. And that is Roxology.
TMO: Oh marvelous, that's brilliant. So because obviously a lot of people relate you to Vengeance Rising, like we were talking about genre or style, what they expect from that particular album, I know there will be a lot of people out there that as soon as they see your name up on something, they might think it's something that's really thrashy or heavy, or they might think of, even back to the good old Die Happy days after you guys left in '92, after the Once Dead album, people might even think about that as well So what's your take on that? Because I know what people are like, they're just so old school, if it's not the old stuff, then…
RDM: Well, that's one of the things, one of the comments that I heard from Facebook when I asked this question, should we get back together or should we do another album. One of the comments was like, look, thrash peaked in the late '80s and the early '90s, it peaked then and it's not all that and a bag of chips now, why do you want to do that, why do you want to do a thrash album, that was one of the responses. And we looked at everything, we looked at everybody's ideas about that. And some people loved Die Happy and some people couldn't stand it because it wasn't thrash.
TMO: Exactly, well it had all of you guys, it literally had everyone from Vengeance Rising apart from Roger, so obviously a lot of people, as soon as it was a new band, the way you guys got together, and everyone thought – oh my goodness, it's gonna be another…. No…. it's like more of a bluesy hard rock kind of album, which I loved by the way, cause I remember getting it back when it first came out, so I enjoyed the album myself personally.
RDM: The good thing is about me and Doug and Larry and Glen, we click, that was the reason that Vengeance worked. Because it was me and Doug and Larry and Glen Mancaruso. You know as well as I do, that there are some bands, there is just a chemistry,. It's like they can play a cover song and it just sounds fabulous. Because they work well together, they feed off each other, and I felt like Vengeance, we had a heck of a lineup. Of course Martinez, he was perfect at the time, he was definitely perfect, and so that was the wonderful part about Vengeance. And a whole lot of ministry. Once again, in this Facebook survey, so many people told us that they became Christians and that the Vengeance album helped them through a rough time in life. I got inspired just from listening to everyone, I had the goosebumps, the warm fuzzies, when people were talking about spiritually how they were helped and they became closer to the Lord, that's just mind-blowing. Then a lot of times some people said, "I'd listen to it, I guess, it would have to be better than it was then" they had all these parameters, it's gotta meet this, they had criteria, it's gotta do this, it's gotta meet this, before we'll even listen to it. And I wanted to hear that stuff…I wanted to hear people, what do you got to say? And actually people were very convincing when they said, with Roger it was wonderful, don't resurrect it, leave it as is, leave it in the past where we can enjoy it. And you know what? That touches my heart too, so all of us are looking, and we're kind of searching our own hearts to decide. We're going to do something, but I don't know if it's going to be Vengeance or not, and it may not. I think you know what I am saying, we will see what happens.
TMO: Absolutely, exactly, whatever God brings to the table for you guys, like the whole song isn't it, it's called the will, it's up to God's will what actually happens with the band. I think there is a lot of people out there who would like to see sort of a reunion and such, even though Once Dead was made up of a lot of you guys. But at the end of the day, I'm a bit mixed, I am happy just to say look, guys – leave that stuff like it was back then, but at the same time too it's like, it would be nice for you guys to get together and write new music, something that impacts you guys, what you want to achieve, what you want to still bring to the community, it's always up to you guys, isn't it?
RDM: That's pretty much it in a nutshell.
TMO: I can't think of much else really to say on the questions side of things when it comes to music, I think you've pretty much answered everything.
RDM: We're in a good place – I think musicians are in a whole lot better place than they were of course last year, everybody was in a bad place last year. People are wanting live music right now, they want to get out. Here, there's a ton of festivals here in Tennessee. And actually last year in 2020 I went to a festival, called Fishfest, here in Tennessee. And they are hard core, I'm telling you, hard rocking bands, but they're out in the woods. One of the popular ones is called Possumfest, believe it or not. And that one called Fishfest, it's put on by a guy named Larry Fish, he had his last year. And I was so happy. Because nobody did anything last year, but he put on his festival, and he had a good crowd, and he's going at it again this year. I know that he has a special guest, a guy that used to play for a hard core band called Cannibal Corpse, you ever heard of those guys?
TMO: Yeah, yeah, I do know Cannibal Corpse.
RDM: Rob Barrett, I believe, he's gonna be at the gig, he's going to play a few songs, and kind of a meet & greet. I think that's his main draw this year is Rob Barrett from Cannibal Corpse, and so it's going to be a hard core show, and I'm going to be attending that, I believe it's in, what is it, it's in August – no it's in September I believe.
TMO: Ok, alright, that's really cool! Also actually there is one question I would like to ask, because I've asked this to anyone I've really interviewed, What kind of advice would you give to musicians today, obviously being someone who has been in the industry for a very very long time, so what kind of advice would you give upcoming musicians or current bands in this day?
RDM: What advice would I give upcoming musicians? Okay, now here's the best advice I could give, and I'm talking about musicians who are in a band, in a successful band, or they got something going on. And that is, you need a lawyer, best advice I can give, an entertainment lawyer. Those guys – there are no talent scouts anymore, the talent scouts are basically these lawyers. A musician who goes into the business, they need a lawyer, those are the talent scouts, they will set you up with an agent, they will set you up with a record company. You need a team of people to help you and your lawyer's your first one. And people really don't know that, a lot of people don't know that, but that is the first step.
For a Christian artist, it's different. If you're a Christian artist, believe me, God will take you where He wants you. But you gotta know your craft. Nowadays basically you better know how to read music, you better know music upside down and sideways and back and forth. I record all my stuff at home, in the studio. With Nick, he sent me charts, he sent me chord charts so I could record. I didn't fly to Washington, he didn't fly to Nashville, we just did it all from home. And that's how people are doing it nowadays. And of course he sends me charts, he spelled out a lot, he sends me musical notation, it makes it easy. Now back in the day with Vengeance, we didn't write anything down, we rehearsed together every night and so we memorized it, we learned the songs, we wrote these songs as we were together and we never wrote anything down. But I can't be together with people right now and the beauty of it is, send me the music, give me some ideas, give me some chord charts. As a bass player I want a chord chart, I want an outline with the minor chord and the major chord and the first and the third and the fifth, I want to outline that. I'm talking to musicians out there – you asked a musical question – you better learn it, ok? Learn your stuff. And go deep with it. That's the best advice I can give. And if you're a Christian artist, seek God with all your heart. Keep a journal. Get out and get in to the Bible, first thing, that's what I say. Christian artists, know God, He will put you whereever he wants you, whether it's a church or whatever. You know what I am saying? Let me see, is there any other advice. There's a lot, there's so many areas. Overall I would say get that entertainment lawyer, they're the talent scouts, don't shop your stuff. And they got some good extras you can pick out. I got a lawyer here in town, in Nashville, I won't say his name, and he's fantastic, a lot of connections, and when it comes to Roxology I presented it to him and he said Roger, let's look at our avenues and stuff like that. He shopped it for me, and it ended up that I went with Roxx Records, I believe they're from California, and he gave me lots of advice on negotiations and things like that, and so because I knew my lawyer I did a good deal with Roxx Records. And once again, believe me, that's good advice right there, because if you sign a record deal, you better get paid, you know?
TMO: Oh yeah, absolutely. I mean, there's a lot of bands out there, I think that's probably been the biggest thing, the biggest problem I guess over these last few decades especially for upcoming bands and for bands that are semi-pro, who just aren't getting paid. Like I remember one guy telling me about the amount of times they got paid in pizza.
RDM: Well yeah, I understand that, I've been there, done that myself. I got one more piece of advice for musicians, for bands. You gotta get your show together. That's one thing that people don't think about. They'll rehearse and they'll write and they'll record and they'll spend all their time writing and recording, but they're not putting a show together, they're not putting an on-stage show together – in other words "here's our songs, listen to them, back to back" but there is no show! And you've got to look at these big bands, as far as the best show, one of the bands, Van Halen had a fantastic show, those guys were down to the nitty gritty, where they said the exact same thing, they were in the exact same spot, at every show, and it was fabulous, it was basically written out from beginning to end. If bands do that, then there's success. Believe me, that's how you sell stuff, is a live show. If you think, no kidding, if you got an album and you're not playing live shows, you're not going to sell that much. you have got to play, and that's how you get good, but not just playing, you gotta have a show. There's people who help you put stuff together, I've studied stage performance for 30 years now, there's ways to move, there's places to be. I'll ask a band, do you know the five places to be on stage? No. Do you know five ways to move on stage? Do you know what misdirection is? And people don't understand stage performance. Now a lot of the Christian bands were really good at this. I thought Vengeance was fabulous at this. Bloodgood – Bloodgood always put on a good show, you'll hear people say "man, they had a great show!" Those are the bands who make it. And the ones who "oh they sounded pretty good but they didn't take me anywhere" – I want a show just like watching a movie. I want a band to make me laugh, and I want a band to make me cry, I want the band to make me wish I hadn't done that last night.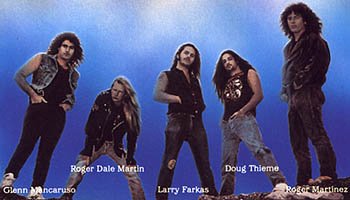 TMO: (Laughter) Oh exactly!
RDM: I want an emotional stirring, and if you do that, if you actually stir somebody emotionally, they're gonna buy your merchandise. But people don't understand that. Now that you've stirred me up, I can do a seminar, here's what I would tell people to do, or suggest to them, that's get your show together, and it's hard work, and rehearse that show, over and over before you go out there. You know that the first two songs, people don't even listen. They aren't even listening, the first two songs you play they're just looking, especially if they've never seen you before, they're just looking. And see that's something you need to know too, you don't want to bust out your big hit song right off the bat 'cause they're not even listening to it, they're just looking at you, "do I like these guys?" Also, ahhh, good advice is, everybody in the audience is looking at the band, they're trying to relate to a band member, and if you have a band that kind of covers it all, you've got a great band. Let's say for instance, Vengeance. Larry was very athletic, and he was a jock. He kinda got the athletic people, they kind of identified with Larry. Glen was Hollywood, he really was, he brought a lot of Hollywood to Vengeance and people related to him. Doug Thieme – Doug was the brains of the band and so the intellectuals, the brainiacs, would kinda look at Doug. And I'm like the hick from the sticks, dude, I'm like total country bumpkin on a heavy metal stage, and people could relate to that. With Roger Martinez, he was like the total Valley Girl surfer, that was his thing, like, his lingo was hardcore Southern California surfer, and that was his thing. People liked that, and we had a good stage balance. So a lot of it is just everybody working together musically, everybody working together looking good visually, you need to look good visually too. And here's another thing I will tell these musicians, freaking get in shape man, if you're 30-40 pounds overweight, ok, today's modern world, it shouldn't be this way, but people expect more from their entertainers, now I know rap kinda went in one direction where all the fat guys were ok but not metal, if you look at the good bands that are up and coming, they are lean and mean and in shape, that's what I want to see. Like a front-man, in that band, Pantera is one of them, the lead singer, Phil, dude, back in the young days he was buff, he was looking good, all those guys were in shape. That's what I would say, look, eat good, get in the best shape that you possibly can. Some people are gonna be heavy, but get in shape heavy, be in shape heavy, and some people are going to be muscular and get after it, and some people are gonna be thin, just be as much, the thinnest most muscular guy or gal you can be. So you work with what God's got. So get in shape, know your music, put your show together, and get you an entertainment lawyer.
And also for a band that tours, that's going to go on tour, my best piece of advice is get yourself a good sleeping bag, cause you're going to be on the floor some. And if it's cold, get you a good sleeping bag and you're going to stay warm. You wouldn't think that's that big of a deal but believe me, you're on the road, you'll find you a good sleep anyway, that was our situation back when we were on tour, I bought a sleeping bag the first tour and the second tour, I got a really good one. And buy some cheap clothes, you'll be active all day, on tour. If your gig is black jeans and a black t-shirt, whatever, find the cheapest black jeans, that way it won't cost you a fortune on tour. And also, touring is all about merchandise, that's how a band makes money. And you sell merchandise by having a good show. Because even back then there was a venue fee, and I think now bands have to pay an outrageous amount, in other words I have heard about bands having to give up 50 percent of their t-shirt sales – something crazy like that – so get the good deal with your t-shirt guy, that could make or break you on the road too.
TMO: Ok marvelous, now that's brilliant. Maybe we should have an article on the magazine with you sort of, like you said doing a seminar, maybe doing something that might give a few pointers to people. I mean obviously you've given advice already for the interview but it would just be nice, maybe if you want to contribute something to the magazine in a bit more depth, for musicians or whatever, it's entirely up to you!
RDM: Christian, that sounds very interesting, let me ponder that, if you want to make a separate article and do two articles with our interview, or put that on one, ask your readers, or how about ask Roger – ask Roger Dale, what questions do you want to know.