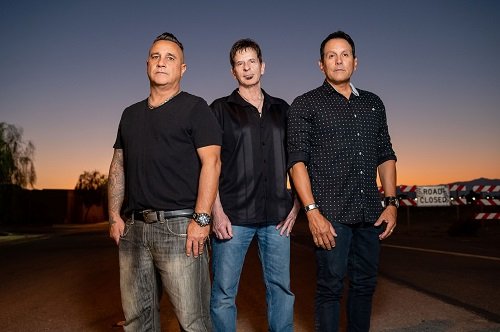 Interview by Chris Palmer
The Word66 is a Christian rock band from the USA. The three-piece delivers its music through a mixture of wonderful, catchy melodies and thought-provoking lyrics, all with the purpose of spreading the good news of God and Jesus Christ via a Rock 'N' Roll sound.
The band recently released two singles, "On The Way To The Promise Land" and a cover of Norman Greenbaum's "Spirit In The Sky", both of which can be viewed/listened to via the band's website and YouTube pages. I conducted an email interview with guitarist and founding member, Steve Scott, to find out more about The Word66…
Hi Steve, Chris here from Ever Metal and The Metal Onslaught…
Firstly, how are you and everyone in The Word66 doing? Are you keeping safe and well during the current pandemic situation?
Hi Chris, on behalf of the guys, Steve Scott, thanks you for asking. We are doing great and we hope the same for you. We are doing our best to follow the CDC guidelines. We wear masks, have chapped hands from sanitizing, and do our best to social distance even while jamming. Not enough people taking this thing seriously.
Being a Christian myself, the name The Word66 really struck a chord with me, and I was eager to hear your music and the message you wish to share. But, for the benefit of our readers, can you please explain how you decided on the band name and, why the additional "66"?
It's really pretty simple. There are 66 books in the bible and the bible is the word. I actually had someone ask me that because technically, there is no space between the Word and the 66 if the "d" was a secret message for 666. LOL. That's why you don't do drugs!… The messages in our music are always positive. Some have some bible passages, other written from the various books, like "On the way to the promise land," and songs about things that we all feel and go through, and how God is the answer to our struggles if you know where to look.
September saw the release of your first single, "On The Way To The Promise Land". Personally, I loved the song and the message within. I thought that you really touched on the book of Exodus and how Moses, guided by God, led the people away from slavery and towards His promised land. Yet, you delved much deeper into the human mind of inner battles and questions, as we have an ingrained tendency to question/disbelieve/distrust something that we cannot see. How did you arrive at the idea, was it a collective decision, and why the book of Exodus?
Thanks man, glad you liked it. That's a great question, Chris, and thanks for noticing. Not too many people have referred to the lyrics in that song of which I am really proud of them. I think the messages at church can sometimes plant seeds in my head. I sometimes need to jot things down on my phone for later reference when I am in the song writing mode. I write all of the music and lyrics and let the holy spirit guide me. Exodus just seemed to be a great book to praise. Promise land takes you through the book in pretty much a chronological order kind of summed up with a rocking perspective. I got to talk about the journey and what Moses had to deal with, got to throw in one of the only times where God describes himself, and end with what I kind of comically referred to the Tabernacle "the MOST holy place".
What has been the reaction so far – from both fans and the media?
It's been pretty amazing. With great support from places like Ever Metal and The Metal Onslaught, various press, and the many radio stations all over the world that are playing us, we are very grateful. We are getting airplay not only on Christian radio but AOR, hair band, and even on some hardcore shows. We just charted on a very cool station called Spiderweb Radio at #10 (the single moved up to #8 after this interview) with the new tracks from Shinedown, Queen, Alice Cooper and AC/DC. And our new fans have been saying some wonderful things that make us smile and help verify that we are on the right path.
You decided to release your own take on Norman Greenbaum's "Spirit In The Sky" as your second single. I remember hearing another cover by Doctor & The Medics back in the 80's, which I really liked. However, your version has a much more rocking feel to it, and the guitars sound amazing. Of course, now I understand the message in the song more than I did when I was younger, and I think you've done a fabulous job by delivering a song that really hits home. Why did you choose this particular song to cover and was it easy?
Thanks man, really appreciate the love. We wanted to do just one cover tune that was considered classic rock that everyone knows. Spirit came to mind as it has been in a lot of feature films and a great old tune. The choices of classic rock tracks that have some religious overtones are kind of few and far between. I think we kind of modernized it a bit and rocked it out.
What was the recording and writing process for the band? Were there any logistical problems due to the current COVID-19 pandemic?
As mentioned, I write all of the music so it was just a matter of choosing which ones to record. We had to narrow it down, which took a bit of thought and strategy, yet to be determined. We recorded as the schedule permitted with the band mates and the studio. And yes, the recording should have been completed at a much earlier date. We put it on hold due to the pandemic, waiting for things to calm down and when that seemed like a moot point we just got it done knowing that God will guide us through and keep us safe.
Are there any plans to record a full album?
Absolutely. We have all the track ready to go. We are hoping that we will get a nice deal and get it done the right way. Hello labels if you are reading this. LOL
What are your plans to promote and tour your music?
You know with the virus, who knows. If, and when, things get back to semi normal, we would love to take the show on the road. I think we are a fun band live and are looking forward to getting the crowd all roiled up and hopefully singing along. Hoping to do some shows in your neck of the woods. That would be awesome!
Do you handle such plans yourselves, or leave them in the capable hands of a record label?
We are hoping we will not have to do this ourselves. Hoping to hook up with some top notch management and reportable label. Christian preferably.
While on the subject of touring, we all understand and appreciate that it can be a difficult experience travelling continuously. What kind of things do you all get up to when travelling between concerts? Do you get time to appreciate the places you travel to and taste local cuisines?
Lots of sleep and room service. We're not as young as we used to be. Just kidding. Sort of. LOL. The shows actually take a lot out of you because you put out a 1,000% into the show. It's tiring and energizing at the same time. Sometimes it's like taking a sleeping pill then drinking a Redbull. Kind of hard to explain. And yes, when we get overseas we are very much looking forward to finding the time to take in the sights, the cuisine and hopefully attending some Sunday services in some of those amazing churches.
Who's in charge of the music when travelling, and what bands do you mostly listen to?
We all like some similar music but try to break it up a bit with some different genres. Helps to keep the creative juices flowing. We love the Christian rock of course and some of the Christian contemporary music is pretty awesome. Throw in a little acid jazz, smooth jazz, classic rock, hard rock and EDM and you're all set.
And, finally, is there any message that you'd like to say to your fans and Ever Metal (and The Metal Onslaught) readers?
We are a Christian rock band first and foremost. What we believe and live by is reflected in our music. As we release more tracks, we hope that you will dig our sound. If you are into the messages that we are sending out, fantastic! If you are not into the Christian thing and just dig the music that's great too. We are here to rock and come prepared to tell a story to those who are ready to listen.
Thank you so much for taking the time to answer my questions. It's an absolute privilege to chat and get to know The Word66 a little better. Everyone at Ever Metal and The Metal Onslaught wish you well, and we hope to see you on tour soon.
Thank you so much, Chris, the privilege has been all ours. We also thank everyone for reading this and hope that we had the chance to introduce ourselves and hoping to rock you all live sooner than later. Please be so kind as to follow, like, subscribe, and write some nice comments. Our social numbers at the moment need some help! LOL. God bless.
This interview was originally written for Ever Metal:-
https://ever-metal.com/2020/12/01/interview-with-the-word66/
LINE-UP:
Steve Scott [Guitars]
Brian Torres [Vocals & Bass]
Dave Murray [Drums]
LINKS:
https://theword66.com
https://facebook.com/The-Wordd66
https://intagram.com/thewordsixtysix
https://twitter.com/TWord66
The Word66 – YouTube