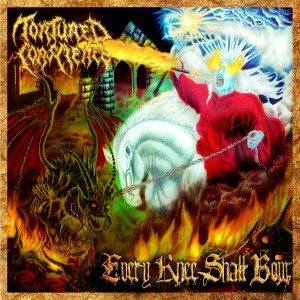 In the realms of death metal that have existed since the mid to late 80's out of the thrash metal movement, it's been a genre that enjoyed major mainstream success with bands such as Possessed, Death, Obituary, Deicide, Napalm Death, Cannibal Corpse and Mortification.
Bombworks Records has been the direction of extreme music since it's birth back in 2004 with signing other notable bands such as Crimson Thorn, Antestor, Deliverance, Holy Blood and others. With at least one particular band from San Francisco, California, Tortured Conscience that is headed up by founding member, guitarist and bassist Jeff Lenormand and former band mates Berto Salas – Vocals (2004-2010) and John Gotelli – Drums (2002-2015) signed with the label Bombworks back in 2006 in which the band followed up by their one and only featured full length release "Every Knee Shall Bow" which exposed the trio to more listeners globally through the popularity of the label.
Since their initial release in 2006, recently Jeff had revealed that he felt that the album had lacked in a lot of ways through production and sound, so he approached Charles Powell of Battlefrost Productions, to get a complete remix and remastering of their solo album effort.
After all their hard work and toils Charles and his team had come up with the goods, which saw vast improvements with the clarity of the guitars to the snare drum that no longer featured the tin style slap.
Album Tracklisting:
Blinded
Apostate Return
Modern Day Pharisees
The Trial
The New Trend
The Word Became Flesh
Internal Torment
Every Knee Shall Bow
No Ambiguity
Crucify
Blinded is the first track to feature and just like any death metal song it hits you for six. With such clarity and bold sounds that compliment the ranges they are trying to display. Apostate Return is no slouch when it comes to it, using classic old school facets with using black metal techniques vocally which was become quite popular from 1996, as they create the dynamics throughout.
Modern Day Pharisees again revisit the classic structures built upon this genre, with more a melodic undertone that carries the track across the elements that, changes at certain points with Berto's low bombastic vocals that add the extra clout. The Trail continues with the intensity and melodic structure, with harsh vocal deliveries and a great mix again of classic and mid 2000's death metal.
The New Trend fits the bill properly, certainly is a song you could watch live, as it gives you that feeling of being in the front row and crashing between all your fellow bangers with the hair twirling around and also the track has a well balanced structure that keeps it all together. The Word Became Flesh, even though in itself holds it's own unique spectrum, it has so far has become the weaker song for me as even, though the fast paced drums and changes that exist within this effort, it never really stood out to me.
Internal Torment comes into play which is complimented with the vocals being mixed together in a comfortable way. Still pleasing to the ears as they keep striving for the more melodic death metal, especially around the times of the late 90s, catching more of Mortification feel with the fast and furious blast beats it ticks over well. With the titled track Every Knee Shall Bow, is everything that can be expected from listening to the album so far, certainly a great track to make as your title for your album. It holds strong, low guttural vocals at points which slips easily into the chasms of a well balanced death metal track. Certainly a personal favorite thus far.
No Ambiguity is much more slower musically, judging from their previous counterparts, seems more of a trash oriented song with growling vocals, enjoyable still, so please down put this as a downgrade. The structure is held well, mainly the ballads of the genre, which to anyone we know that it's not just pure mayhem, but still throws in a cool guitar solo. Crucify is the final track of the album, which still again comes more so a thrash single, which comes across more melodic and speed driven. Showcasing their wares of being more than just a death metal band but, lovers of metal in general.
Overall judgement is that the approved 2006 album Every Knee Shall Bow, is a vast improvement from it's original release. Still carries some of the same qualities with the album all those years ago, but certainly a much more better death metal than has been revealed over the years.
Christian Sullivan 8/10 – The Metal Onslaught Magazine
All downloads and merchandise available here:- https://battlefrost.com/shop/