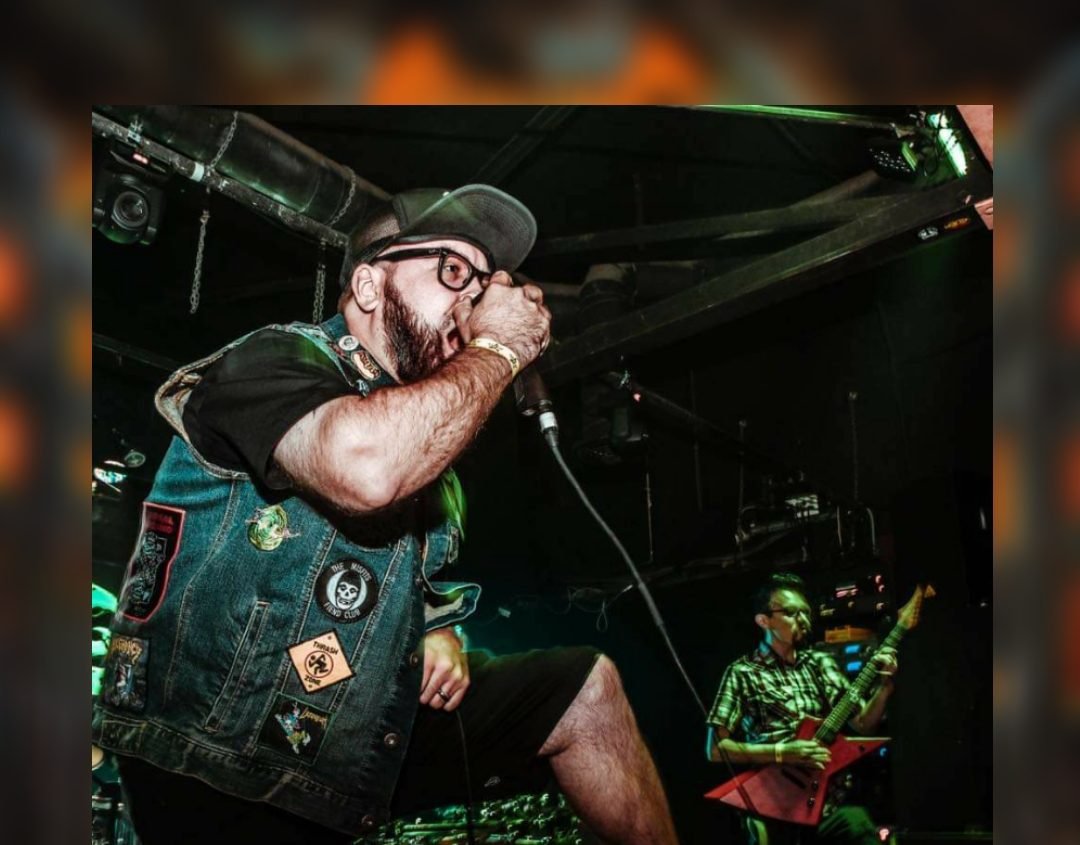 For this installment of the Cup of Joe, I had the privilege of interviewing the one and only Grant Mohler, front man of death thrash metal band Crushing the Deceiver! These guys took the metal world by storm in 2018 with their self-titled debut album. Straight up, in-your-face, brutal and uncompromising Jesus metal. I ended up naming it as my number 1 album on my year-end 2018 list, and still play it regularly on CD and vinyl.
It was an honor to meet Grant and the band at the Sacrivox Music Fest that same year. He was a very humble and approachable guy. His love for metal, and love for Jesus, were so apparent when hanging out with him that day. In this interview, we talk about Grant's musical influences, the formation of the band and the debut album, news on their highly anticipated follow-up Prophecies Foreseen, the Fresno music scene, and all things metal and Jesus! We also address the pressing question of whether Grant will ever appear on the show Chopped! And also Grant's favorite ride at Disneyland, plus much more!
Today, I am interviewing my brother in arms Grant Mohler of Crushing the Deceiver! How are you doing these days Grant? How's quarantine life?

Hey Joe, thanks for reaching out and giving me the opportunity. I'm doing pretty well! I really miss getting together with my band mates and going to shows, but other than that, not much has changed. I've been very blessed.

Tell me about your life B.C. (Before Crushing). What bands were you in? Who were your major music influences? Who are your primary influences for your vocal style? Who are your all time favorite front men in metal, rock, or punk?

My life before CTD was kinda up and down. Definitely had some really high points as well as some really low moments. I went a good chunk of my life (11 years) without stepping foot in a church so I kinda did things my own way and didn't always have good results. I was in several bands in my past. Artery Eruption, Devouring Humanity, Epileptic Mastication and Genetically Altered. I'd say my biggest influences vocally are Chuck Billy and Max Cavalera. My favorite front men would definitely be Chuck Billy, Kurt Brecht, Phil Rind, Joey Belladonna, mostly old school thrash guys.

How did you meet Johnny Rios? Why the decision to form a band? And who made the call to name it Crushing the Deceiver? Who would you say are the primary music influences behind your style? How did Carl and Trent get involved in the band?

I guess I met Johnny a long time ago at my old band Artery Eruption's band practice. I blew him off because I used to be a total egomaniac. When I remember meeting him was once I started my restaurant, because he works at the dry cleaner next door (he still does). I came up with the name Crushing The Deceiver. It comes from the Bible verse Romans 16:20. It's hard to really say a main influence, all four members are kinda all over the place with bands we listen to, while definitely primarily liking metal and all of its sub-genres. Trent and I met through a former employee of mine and he joined the band mid-way through the recording of the first album. Carl, I've known longer than anyone else in the band. He and I used to play together in Artery Eruption so I already knew he was a great player. When we mutually split ways with Ryan, he fit in the role perfectly. Carl was the spark that made me really believe CTD could go somewhere.

Some fans have described your sound as thrash meets death meets metalcore. How would you describe it?

I honestly never understood the metalcore thing. I would say death/thrash or groove/thrash. To me, metalcore has always had clean vocals and we don't have them, so I don't consider us metalcore. I have no issues with metalcore, just would not classify us in that category.

Everyone should know by now the impact that the self-titled debut album has had in the metal world. Any favorite memories in creating that album? What is your personal favorite song from that album?

My favorite part about that album was the amount of thought that went behind every little aspect of it. Getting to work with all the guest appearances involved was pretty amazing as well. Peter Shurtleff being kind enough to let us use his song that he wrote for his son as an outro, Shawn Beaty doing the spoken word intro, Jake Martin throwing down on "In God's Hands", Michael Philips recording in my little apartment that we were at for like a year between houses, Greg Minier coming to my home studio and sharing stories about the beginning of The Crucified and how they once had a keytar instead of a bass. Haha too many great memories. Johnny and I got together every weekend for 17 months creating that album, getting to know him and form that brotherhood was amazing. My favorite tracks would definitely have to be "Forever Free" and "Crushing The Deceiver." I love all of them, though!

How and when did you connect with Roxx Records? How did they get involved in releasing the album? Did you have any other labels interested at the time?

It was late 2016/early 2017. I was sending our first song (with no recorded vocals) to tons of labels and had great response. A few wanted to hear more. Rottweiler was the first one I asked, but he wanted to hear more before making the commitment, a couple other larger labels showed interest, but wanted a huge touring availability that I couldn't provide as a business owner. Roxx just seemed like the perfect fit for us at the time and I love Bill and Scott! They've been great to me.

You began the self-titled album with Revelation 3:20. Why did you pick that passage to begin the album?

My pastor would always end every service with that Bible verse and it felt like a perfect beginning to the album. We wanted it to be like you were getting ready to go into a battle.
What was the inspiration behind Gabriel's Song?
"Gabriel's Song" is a lullaby that was written and performed by my good friend Peter Shurtleff. He unfortunately lost his son by (still birth). The sound after the music stops is actually his son's heartbeat recorded from the sonogram. When I found out his son's name was also Gabriel and archangel Gabriel was on the cover of our album, I asked if we could use the song to give a voice to his son so the world could hear him. At the time, I didn't know Peter very well. He ended up doing the layout of our album and is now a huge factor in everything that we do as a band with his flyer designs and other graphic designs and advice he gives.

The self-titled album was unleashed in 2018, and I wasn't the only one to vote it as the top metal album of the year. What kind of feedback did you get from people upon the album's release?

The album had a great response overall. We charted as high as number 3 on the Christian Music Weekly charts with "An Angel's Armor" and have been able to play with tons of our favorite bands. For me what's the best is getting to hear what our music means to people and how it's helped them come to God or get through a tough time. I've got to pray with so many people and they've been just as much a blessing to me. My friends list went from like 800 to floating around 5,000, due to the popularity of the band, but it's all for His glory!

Tell me about the role of faith in your life. What does it mean to you to be a Christian? How does your faith factor into your lyrics?

My faith is everything. I'm not super "religious", but my beliefs in God define the way I try to live my life. I'm by no means a perfect person and I don't claim to be. I cuss, I drink (not to drunkenness) I definitely have my flaws. I'm also a man that gives all glory to God and will always keep the hope and positivity and love of Jesus Christ in our songs even if we don't say Jesus every other line of a song. Jesus is my Lord NOT my lover. Some bands on K-Love write songs that almost sound like love songs between them and Jesus and it doesn't relate to me. We write about real things, struggles and one thing that lots pretend doesn't exist, spiritual warfare.

You and I met at Sacrivox 2018, the very first live show for Crushing the Deceiver! Any stand out memories from that event?

Meeting you! Seeing a ton of great bands and hearing some great music with a great message. Knocking the cobwebs off for me personally. I hadn't been on stage since 2007 Haha. Watching War Of Ages perform at like 1am to a crowd of around 15 people. They still killed it by the way!

How did it feel playing at the legendary Whisky a Go Go in Hollywood?

As far back as I have a memory, I wanted to play music and there's no other venue on the planet I wanted to play more than The Whiskey! When you walk in there, you can feel the history. Hanging out in the green room where so many greats have stood and had legendary performances. Seeing the CTD name on the marquee, I got choked up. It was surreal! The staff treated us like rockstars too, it was just a perfect night! Tons of friends and family came from Fresno, too. It was awesome!

Metal fans were stoked to hear the news that you guys would be playing the Hasten Revelation Tour during their stop in Fresno. How did that come about? Any favorite memories from that experience?

That was probably, in my opinion our strongest performance as a band so far. It was awesome to have all the bands at my restaurant before the show and have that fellowship and time together. Getting to share the stage with all those bands was just amazing! Such a strong lineup. We personally sold over $600 in merch that night (our best to date) so that was obviously awesome considering we drove to Vegas hours after our performance hahaha. My favorite experience hands down, not even close, was getting to share the stage with Jake Martin of TTHOG for "In God's Hands!" It was surreal!

What has been your favorite venue to play in so far? Which bands do you enjoy playing with?

The Whiskey was my favorite venue, but honestly the local venues are amazing! I love Strummer's, Full Circle Olympic, Full Circle Brewing, and Fulton 55. We've played with so many locals that are our friends. Fire To The Throne, Farooq, Dissident, Cloud Construction, Blight, Scoundrel, Reminitions, Ravished, A Butchers Euphoria, Valkyrie Missile, Bigfoot Attack, Small Town Cinema, Fatal Rebirth, Forgotten Faces, soooo many more that I'm probably leaving out, but I love my Fresno people! I can't wait to finally play with Perception as well!

Tell me about the Fresno metal, rock, and punk scene! You started a community group on Facebook just devoted to this scene! Who are some of the bands that most capture your attention in the area?

My favorite band from Fresno is hands down, Haunt! There are so many great bands here though. All the bands I named in the previous post come to mind, I've been a part of this scene since 1996 and have seen lots of ups and downs. We have the best music scene in the world, hands down.

For anyone that doesn't know, tell us about Cravings, and life as a business owner! When did you get the idea for this? Any plans to be on Chopped one day? Any future plans possibly to have a stage so live local bands can play?

So Cravings was actually not my conception. I partnered in with the original owner Scott Hinman almost five years ago. September 1st, I'll be the sole owner for two years. Life as a business owner is very time consuming. Monday-Thursday I work 13 hour days and it's a lot of hard work. Very rewarding as well. I love my employees, my customers! I don't think Chopped is in my future, but maybe one day! Haha. I do have plans of owning a venue/restaurant down the road. Hopefully sooner rather than later! It's not if, it's when!

Any tips on how you balance your vocation as husband with managing a restaurant and being a musician?

It's tough to say the least. We've had our issues just like any other married couple. Luckily, we love being around each other and after my wife's "normal" job, she comes by and helps me run Cravings so that we get a little more time together. I usually practice with the band every Sunday so that a sacrifice of time apart as well, but she understands how much this band means to me.

Tell me about Prophecies Foreseen, the new album! Any confirmation yet on the release date? What has this recording experience been like compared to the self-titled? What can fans expect from the new album?

We don't have a release date yet. We hope to have it out in 2020, but we can't make any promises, especially in this current climate making things harder. The recording process has been different. It's so much nicer having a full band contribute to the process and not having just myself and Johnny writing and recording everything. This album will be a lot heavier, still positive and meaningful, but definitely better musicianship and production. I wrote all the lyrics to the first album. Carl has helped a lot with the lyrics on the one so I'm excited for him to share some of his story. He shared some lyrics with me about his spiritual journey that I'm very excited about sharing with everyone!

The album artwork has generated a lot of buzz! What is the inspiration behind it, and why did you choose the album name as Prophecies Foreseen?

The album art on this one was actually a pre-made design by Timon Kokott. I saw it and had to have it. My interpretation of the piece is that the world has been destroyed, but after all the death and destruction, the angel still stands victorious with his hand raised in the air "As We Rise". It kinda looks like he's being melted because they wanted to hold him down and make him part of this world, but he had other plans. We decided on the album name before Covid-19, but now it fits even better. Just kind of talking about how as humans, we've been told in the Bible what is going to happen and how things could be better, but as a society, we choose to be selfish and destroy the world around us. This album will have some darker themes than the first album. People need to remember, most of the stories in the gospel are very brutal and not pretty. We speak truth while touching on these topics and still keeping it positive if that makes sense. Haha.

What kind of feedback have you gotten so far for the first single and music video As We Rise? What do the lyrics mean to you?

It has been excellent. The song has charted as high as number four already and has been a fan favorite at our shows as well. Lyrically it's kind of an anthem. Not going to take it anymore kinda song. "Step up be the one who takes control, of your life for it's so critical". God loves us so much he gave us the decision on if we decide to follow him or not. We have to take control of our life while letting God run it for us because He is in control!

If there were three bands, past or present, that you could tour with to promote your new album, which bands would they be?

I didn't grow up listening to Christian music so most of my favorite bands aren't Christian bands. Haha. I'd say Testament, Forced Entry and Sacred Reich!

What are your favorite recent album releases from other bands? Who are some of your personal favorite bands in Jesus metal?

Oh man, I've been picky with Jesus metal. For recent releases, I love As I Lay Dying, Abated Mass Of Flesh, Cardiac Rupture, TTHOG, Earth Groans, Oh, Sleeper, Deathbreaker. My personal favorite Jesus metal bands I'll say The Crucified, Consecrator, Crimson Thorn, Sacrament and Vengeance Rising.

Any advice you would give to an up and coming musician wanting to start a band?

Don't let anyone grind harder than you. If you want it, make it happen. If you aren't serious about it, don't waste your time.

In your own words, what is the Gospel?

To me the gospel is the Bible, it's the word and the truth. It's what I try to live my life by.

Any other projects or news you would like to share at this point?

Just hard at work with album number two and holding down the restaurant while still being a husband!

Time for a speed round of Quick Answers!

Favorite ride at Disneyland? Pirates Of The Caribbean.
Favorite Bible verse or story? Romans 16:20.
Mount Rushmore of Metal? Testament, Forced Entry, Sacred Reich, DRI.
An artist or band you love that would shock people! I actually can't think of one hahah!
Last album you purchased and last album you listened to: They're both the same, the new Testament album.
Compile a Jesus metal supergroup: Jim Chaffin, Michael Philips, Jack Daniels, Jason Wisdom, Grant Mohler.
Favorite band of all time, and why is it Testament? Hahaha. They're so much better than everyone else, it's not fair.
Dream pro wrestling match? Hulk Hogan vs Macho Man.
Favorite horror movie? The Texas Chainsaw Massacre (1974).
Favorite comic book character? Donatello (TMNT).
Favorite book (besides the Bible)? I'm actually not a fan of books. I have a problem with focusing.
Favorite sports teams? Baseball-Giants, Football-Raiders/49ers, Basketball-Celtics
Favorite concert you've ever been to? Testament, Exodus, Shattered Sun.
Doc pulls up in the DeLorean. Which year are you going to? No better time than the present.
Sabbath with Ozzy or Sabbath with Dio? Ozzy. There is no Sabbath without Ozzy. Dio is a better "singer", but I hated him with Sabbath. I love Dio and Rainbow, though.
Jim Carrey or Adam Sandler? A tie, they've both made some classics and some horrible movies hahaha.
Steven Seagal vs. Van Damme? Steven Seagal!!!!!
And finally… three biblical people you can have coffee with (apart from Jesus). Which three?
I don't drink coffee, but I'll change it to Pepsi and it would be, Noah, Samson and Moses.
Thank you so much Grant for taking the time to answer these pressing questions, and I can't wait for the release of the newest album Prophecies Foreseen. Until then, I encourage everyone to show their love and get your copy of their self-titled debut if you have not already. You can also find their music video for "As We Rise" on YouTube. Share that video far and wide! Until next time, thanks for reading and God bless. Keep it metal for God's glory!