Meltdown is a Christian heavy music and teaching retreat started by Dave Williams in the UK, in 1990, 29 years ago. The retreat provides a weekend away from home with like-minded people of all ages from the Christian hard music scene. Since the start it has been taken place every year in different locations in the UK. This year was my first, but surely not the last, since I really love Christian heavy music and believe that for the scene to be alive and prosper it takes the efforts of many different kinds of Christians, not all of them necessarily devoting their life to the music full-time.
What has been there from 1985, when Dave Williams started as one person of a small group of people staging outreach rock concerts in the local community venues, is the possibility for all sorts of people in the Heavy Christian Music Scene to connect with each other.
A connection with some of the bigger bands from the USA and Pastor Bob Beeman also were established very early and they've been working closely together up to these days.
For the Christian heavy music scene to stay alive and prosperous, it needs effort from people wanting to create friendships and build networks. The artists need support from people listening to their music, from each other, and for the listeners, performers, the bands themselves to meet and create friendships, teaming up for carrying things forward and not in the least helping out to raise a new generation to take over when us being active right now, are not able to do it anymore.
Now to the event that took place this year, 1st-3rd of November. It all started on Friday evening ending on Sunday afternoon, this time at Cefn Lea conference center in Wales. Kicking off the event was the main leader Dave Williams wishing us welcome, sharing some memorable happenings from the past years and telling some important details about the weekend.
First artist out was Christian rock worship singer and songwriter Aaron V Graham.
He has released albums thru Raven Faith Records.
He is also a presenter at Cornerstone Christian Radio Station.
His ministry is dedicated to reaching the world with the good news of Jesus Christ through his music and ministry from the Word Of God and encouraging people. The radio stations he connects with are reaching out to as many as 150 countries. He also filmed YouTube videos from the seminars, performances and interviews from this year's retreat.
Next we got to enjoy a great performance from Pierre Etienne Opplinger, a gifted guitar player, who has published some great stuff on YouTube and also is the guitarist in Rifferspock.
The evening continued with two fine examples of UK Christian punk bands, Trinity Boys and Peter118. With the UK being known as the home of punk, it surely has a place in the UK Christian music scene.
The Trinity Boys have what must be one of the youngest drummers in the scene, doing a superb job.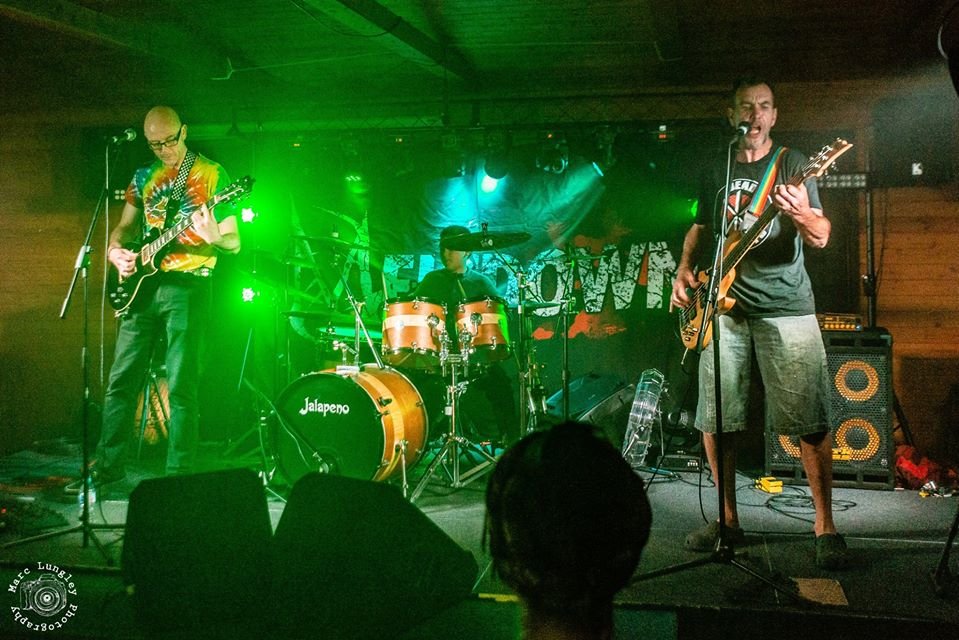 Peter118 must be considered as one of the most successful Christian bands when it comes reaching out to the non-Christian community. They have really reached out to the secular punk scene. Not always understood, and sometimes causing controversy with their straightforward Christian lyrics, but a band that has got into the hearts and heads of people.
They have been touring and playing extensively whereever they get the chance, like skate ramps, pubs and teaming up with other bands doing tours like the Extreme Tour. Very often the shows are free of charge to attend. They have also performed at Rainbow Rock in Sweden.
Peter Szczepanski has built up quite a fanbase for the band among people interested in punk, offering free stickers and attending a lot of different events. Judging to what's seen in social media, people like the frontman a lot, often taking selfies with him and putting out posts on how they have spotted him at different locations.
Also Carey Womack, a man with many talents like being a pastor and the frontman of the band One Bad Pig, (USA) was a part of the show, making no fan disappointed. He even did his famous smashing of a guitar, as a statement, how we should not have false idols.
At the end of the show it was announced that the band's drummer since 2015, Sam Critchley, was leaving the band to focus on his studies full-time. Being around his Christian family, he was thanked for his services with the band and blessed off with prayers from the Meltdown gathering.
Saturday started with a prayer meeting and a joint breakfast followed by a seminar by Dave Williams talking about the church of today, its challenges and how each individual Christian has an responsibility to take the message the church has, out to the society around us. How worship is actually a lifestyle and that we should be persons of worship, not only doing actions inside a church building on Sundays.
After a joint lunch served at tables it was time for seminar #2 where Carey Womack this time in his role as pastor, gave us teaching from Isaiah 6:5 on how we should let God purify us so He can send us out as his servants.
An auction!
Like for most Christian events, the finances can be a challenge. Meltdown had come out with a great idea to have an auction where the attendants of Meltdown were free to donate anything they felt was appropriate. All sorts of items, from toys from Star Wars, a golf game to play at the toilet, to Swedish candy, T-shirts, CDs, and band merch packages were auctioned off. People were in a really good mood, bidding on the items, not letting a single one to go away with at least not some bidding up. Also served was Swedish Fika, with coffee brewed by the Metal House team and pastries from Sweden. It was a success, making some British and Americans fall in love with the Swedish way of making coffee and us from Sweden managing to get yet more people familiar with the concept of Swedish Fika.
After a meal served to the attendees again at the tables, it was time for the music and bands to perform:
Vamoosery – A female-fronted progressive alt-rock band. I was lucky to buy a CD-package for a good price, which I still need time to listen more properly too.
Rifferspock are a very gifted rock act. I have already published a separate review here on TMO (The Metal Onslaught).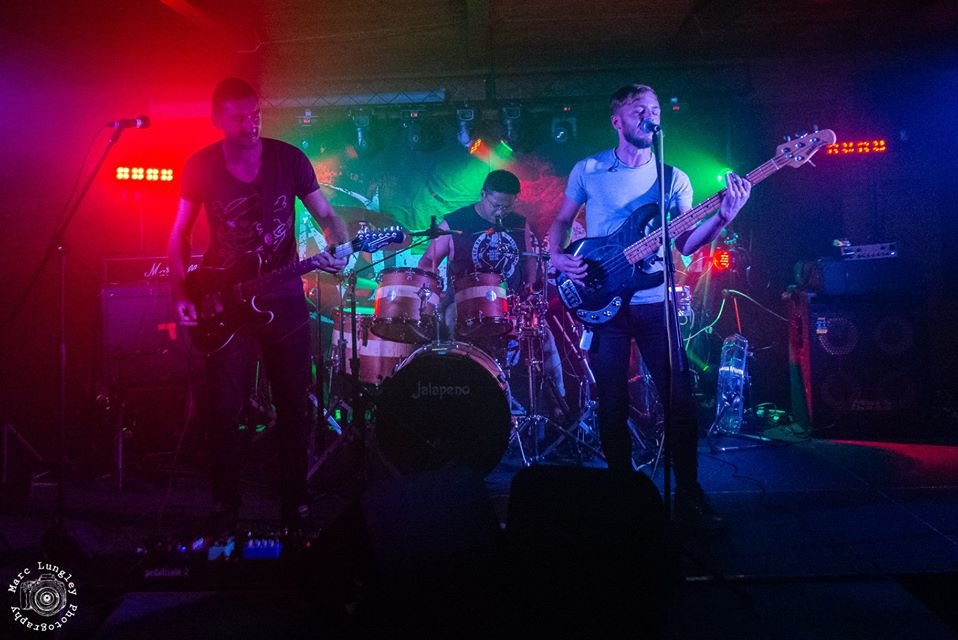 Back Pocket Prophet, a Christian thrash band was up next. Being a huge fan of thrash metal and already familiar with this band and among friends, I just relaxed and enjoyed the show fully. Yes, there was headbanging involved! As the previous time earlier this summer it was a great thrash metal show. My former reviews are to find here on TMO and all over different sites on Facebook, like CMI, Christian Metalheads International.
Poltinmerkki and their industrial metal from Finland were on after that. I followed the band since I first saw them live at Rainbow Rock 2017. With their unique sound and style they really contribute to the Christian music scene. There are also articles about them here in the magazine and in various places on Facebook.
Chaotic Resemblance (US) ended the evening. Testifying that Jesus is the true rock star not themselves. Musically the influences where a lot taken from a genre called L.A sleaze pop-metal which in the '80s included rioting and criticism of the society we are living in.
Think Hanoi Rocks, Mötley Crüe or Crashdiet and you might have a clue about what I mean. They surely gave us heavy fast paced "straight in the heart and stomach"- metal, but rounded it all up with making sure that not a single person in need of an encounter with Jesus would leave the venue not knowing that "Jesus is King ". Travis McConnell, their frontman, read from the Bible and offered prayers for anyone who had not yet accepted Jesus as their saviour and also offering prayers for anyone suffering of issues with their health. A musical review is coming up, later this winter.
Unity and Identity In Christ
Sunday started off with a prayer meeting and a joint breakfast. We moved on to take the Communion, lead by my friends from Sweden and co-servants in Metal House, Josef and Emmanuel Khemi. Josef hold an great speech about being on fire for God and reaching out to the yet-unsaved people, asking us all to question the priorities we've got in our lives.
After a break we continued to another seminar by Carey Womack talking about our identity in Christ. He took up his wife, Sarah Derby Womack, to the stage. She talked about how we Christians are joined together as pieces in a puzzle, each and everyone having their own place to take, or the picture will not be complete. Also they shared some things from their longtime marriage, reminding us of the importance of Christian values concerning family and marriage.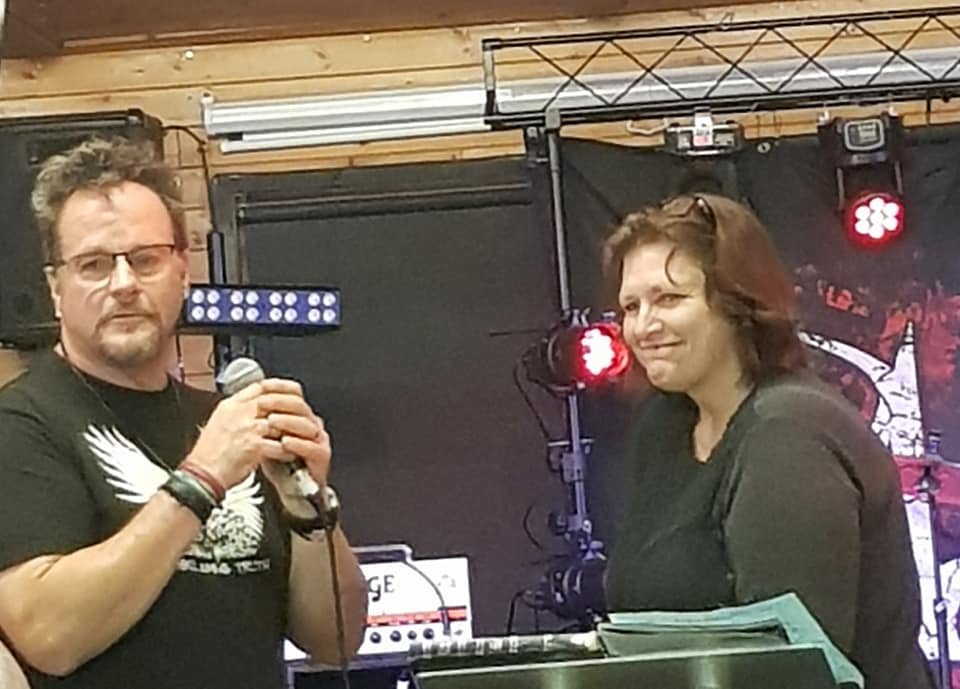 Again joint lunch for all the attendees, served at the tables just in the right time, and then praise and worship before the event was closed with the reminder that next year's Meltdown will be the 30th.
What I will mostly carry with me from the weekend is meeting people with wonderful minds and hearts, making friends and connections, with hearts burning for the same things.
I surely long to meet and spend time together with many of them again. I left many of them not saying Goodbye, but Take care till we meet again.
Meltdown celebrates its 30th Anniversary next year
Dave Williams is a man of God who learns from the past but doesn't dwell in it.
His life work is to carry the Christian heavy music scene, helping artists to develop and to build connections between people with the same interests. I believe that his work has and will bear a lot of fruit. With all his efforts he is one of the people who carries the Christian heavy music scene forward, making sure it lives for yet more and more new generations to discover it. His offerings for the Christian heavy music community are opening doors for bands from other countries also, like Finland, Norway, Italy and Germany, making it possible to support new metal ministry teams and helping out in many other countries for them to make similar events for people who enjoy their music hard, heavy or alternative in style.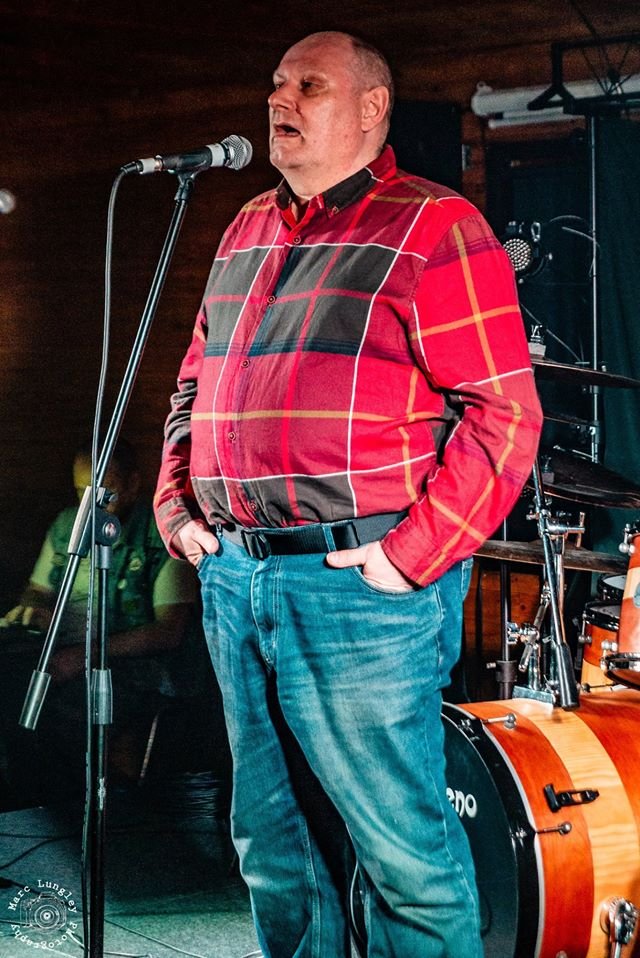 Dave has written a book "Meltdown – The First Thirty Years" with forewords by Pastor Bob Beeman and Jeff Scheetz. The book tells about how Christian unity has resulted in so many blessings thru the past years. The book is well worth reading. It's very easy to read with short passages of text, great photos and logos, describing a great story of which the last chapters are not yet written. It starts in the '80s but also gives us glimpses into the future, like telling us about the connections to the Metal Bible, Christian Metalheads International/CMI, Rainbow Rock. and the connection with Jeanette and Henrik Larsson and their ministry, Metal House.
Many things are not yet even written down properly, like from Rainbow Rock 2019 and how the stage management, lights and sound consisted of great teamwork between people living in various countries like the UK, Sweden and Finland. With amazing and new things still taking place right in front of our very eyes, one thing is sure, there are many more articles and also books still to be written about Meltdown, Metal House and other Christian metal ministries that are still waiting to be established.