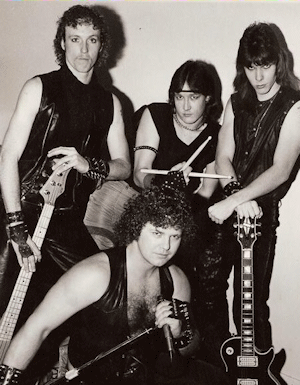 Emerald was a very popular name back around the eighties and early nineties, as I found five other bands with that name. But the Emerald we are talking about is the one that was started in 1978.
The band was founded by David Enos on backing vocals, guitars, and keyboards, and Larry Phillips on vocals. The band had a few other members, most notably Roger Dale Martin. Yes, that Roger Dale Martin of Vengeance Rising, Die Happy, Once Dead, and Holy Right. The band was signed with Magdalene Records and released a single EP, titled Armed for Battle, with Rick Heck on vocals and Kyle Morrett on drums. And now they are back!
The band is slated to perform their first show since they broke up in 1988 at the Throwback Metal Fest III, alongside Ruthless, Nivane, Kantation, Six Pack of Doom, and Ninth Circle IX. The band's lineup consists of Enos, Martin, longtime drummer Kyle Morrett, and new vocalist, Mike Vaught.