Stryper's God Damn Evil has finally been unleashed and it's been quite a ride up until now! While other moments in the band's history may have carried a little controversy, this is the album that probably had the most in regards to the release of an album itself. There was an excitement and tension that had been building for months.
Back in October of 2017, the band announced that Tim Gaines' replacement would be none other than, Firehouse bassist, Perry Richardson. The first track to be shared with the world by this new Stryper team was in February of 2018. The band announced their new album would be titled God Damn Evil, released on April 20th of the same year, and the first single which followed a few days later, was a song called, "Take it to the Cross".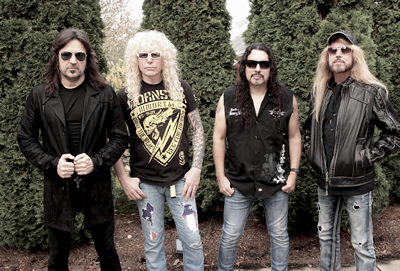 I was one of the many folks who had heard critiques of the new sound, before actually hearing the song itself. Upon listening, once that chorus hit you could definitely hear something "new" coming from Stryper. Social Networks were alight with fans and critics sharing their thoughts on the new sound, many asking the question if there would still be "Classic Stryper", or if "Take it to the Cross" represented a new direction. Even Tourniquet founder Ted Kirkpatrick chimed in via Twitter, with the following comment:
"'Conformity is the jailer of freedom and the enemy of growth'. – John F. Kennedy – With that said, check out the awesome new Stryper tune!! It's instantly Stryper, with some heavy new flavors. Sounds amazing…"
Unless you've been living under a rock, you've probably heard "Take it to the Cross" by now and have made your own conclusions about the song. But what about the rest of the album!?!?
God Damn Evil starts off with "Take it to the Cross", a track that was instantly recognized as something "different" by the quickened chorus, driven by the instruments and vocals.
The momentum carries on with another driving track called "Sorry". About two minutes in, the music pulls back a bit before Michael and Oz shred through their always impressive lead guitar work. "Sorry" was the second taste of this album that was shared with audiences worldwide.
"Lost" begins with a strong rhythm section, keeping this album thumping along. Before too long, Michael reminds us of his incredible vocal prowess. The chorus is then asking the question, "are we lost?" while Michael Sweet is performing those classic Stryper vocal gymnastics.
The title track, "God Damn Evil" is next up and thus far, the closest to that Stryper "jamming" feel we heard around the Against the Law era and even in some of the pre-ATL albums. It's one of those songs that is definitely Stryper and could fit on any album, but works perfectly on its namesake album!
"You Don't Even Know Me" brings a little attitude to the mix. While nowhere near ballad material, the pace is a bit slackened from the previous four tracks to give it more of an anthemic feel when the verses give way to the choruses. It follows a nice little groove while lyrically resisting "judgmental attitudes".
The next track on the album is the last one that was shared pre-album release so you might already be aware of this rocking tune. "The Valley" has a crunch you can bang your head to through the verses while the chorus is a perfect of melody and hard rock. This is a definite highlight on the album, reminding believers that we are to fear no evil!
"Sea of Thieves" is another track that carries the strong Stryper DNA. Starting out with some nice little guitar work, the visual timekeeper that is Robert Sweet, brings the beat as the string sections shred through the rest of this track with Michael delivering some powerful vocals throughout the song.
Lyrically, "Beautiful" sounds like a ballad chock full of inspiring phrases. Though musically, it continues to carry the feel of all the previous tracks. It's not until the next song that things slow down a bit.
"Can't Live Without Your Love" is a sentimental song filled with amazing vocal and instrumental dynamics. I can't help but think the album would be incomplete without this song, now that I've heard it. While it's not as subdued as past love songs like "Honestly", it's still melodic with that really strong rock edge to it. As a matter of fact, it gets pretty heavy by the end of the song.
While Perry's low end has been strong up to this point, it's on "Own Up" where you can really hear his bass playing shine. This is another strong track on the album which carries a lot of classic Stryper feels. It's a fun track with some serious suggestions towards personal responsibility.
The final track on God Damn Evil is "The Devil Doesn't Live Here". Without saying much more about this tune, if you dig the earlier Stryper era, this is a nice little surprise for you!
Eleven tracks, 44 minutes long with not a single song over five minutes, I was pleasantly surprised by this well produced, well written, rocking Stryper album! I know now why Michael Sweet called this his favorite Stryper release. If you pick this up, you might find this is your new favorite Stryper album too!
JR Rife 8/10
(The Metal Onslaught)