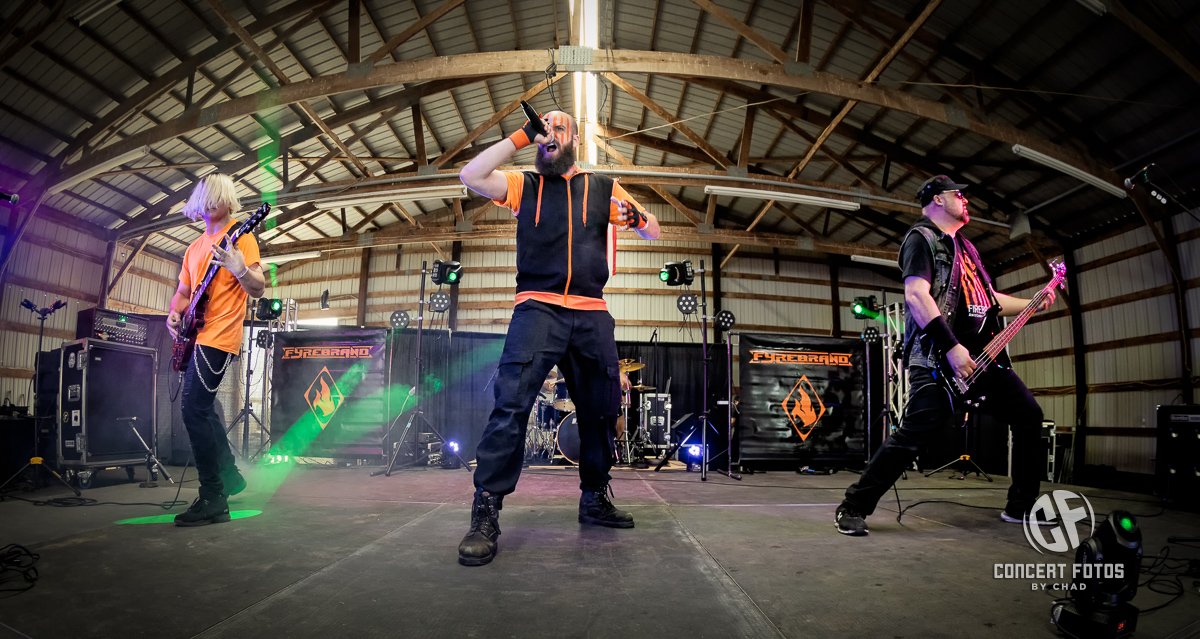 Now we come to a unique style of metal, which has been hovering underneath the radar for quite a number of years. Industrial metal started making its way into the mainstream in the late '80s but didn't hit full popularity until the early '90s with the likes of Ministry, Nine Inch Nails, Circle Of Dust, Klank and Fear Factory.
The style itself retained high popularity until the late '90s and then began to diminish as a force in hard music early in the '00s, but still influenced the genres of nü-metal and certain elements of metalcore, and has yet continued to maintain a steady following.
AD Windblown Media Records was established in 1999 during the very beginnings of the decline of the genre of industrial metal. However the label has been recently gaining momentum over the last few years with signed artists such as David Pataconi, Angel Machine, Relesser and Fyrebrand (formally known as FireBrand).
With Fyrebrand releasing their debut album Overcomer in 2019, they were then signed on in the following year, and next up they released their second full-length Beat The Machine (2021). The mastermind behind the project, Josiah Brand, has been very busy and is on the verge of dropping a third album entitled Vengeance Is Mine.
Track Listing:
Dethroned
Ekballo (ft. HARD LOOK)
Drag Me Down
I Will Repay
Heavy Chains II
Infector
Garbage
No Vice
Plunder Hell
End of the World (ft. Delta-S)
Starting off the album is the song "Dethroned", a great introduction to Fyrebrand if you haven't heard the solo project before. Upbeat, a great mix of growls and clean vocals, with an electronica spin, heavy guitars and drumbeats. The album's first single "Ekballo" is next in line which features Christopher Johnson of Hard Look on backing vocals. Lyrically strong with Christian themes, they certainly aren't shy of the gospel of Jesus Christ, and include nice riffs throughout, though it is definitely not the strongest track on this album.
"Drag Me Down" is unique in its own right, with a steady tone of heavy guitars, electronic voiceovers and more of the signature growls and clean vocals. Entertaining riffs and uniform direction keeps the song from lacking in the short term. "I Will Repay" begins with a smooth church organ sample tone on keys, then the track blasts into stop-start heaviness, with growls in-between, and finally develops into a melodic chorus as it streams to pinpoint the message conveyed.
The following track "Heavy Chains" is a slower-paced track that continues the use of heavy guitars and bass drum that gives it the intensity it needs, mainly clean vocals on this one, and again with another delightful melodic chorus, with less growls this time around. This song has its own identity. The third released single "Infector" is probably my favorite song on the release, with a great repeated melodic riff and a balanced mix of sounds that is consistent thus far.
Second single absolute "Garbage" is next (did you see what I did there?), with a faster tempo and groove elements, and again with a good blend of vocal variety. "No Vice" shows more distortion this time both vocally and musically that is very noticeable, not sure if this is a mixing issue or intentional, as snippets of clarity return briefly only to disappear again.
You know when it's time to "Plunder Hell" and that track is a continuation of upbeat and cheerful melodies, slowly closing out this very enjoyable release. Finally, "End Of The World" featuring fellow label mate Delta-S is completely slow paced and ballad-like in so many ways, the swaying riffs and solid solo give the song a nice touch, finalizing the album, another solid release is in the books.
Overall, a solid effort from Josiah (Fyrebrand), and certainly his best one yet. Throughout Vengeance Is Mine, you hear a nice balance of electronica, thumping bass, and crushing guitar. Consistent and memorable riffs in multiple songs, and a great grasp of mixing vocal style varieties, helps to complete the package here.
Christian Sullivan 8/10 – The Metal Onslaught Magazine
https://fyrebrandmetal.bandcamp.com/album/vengeance-is-mine