There cannot be a better way to start off the summer of "new beginnings" than Kingdom Come Festival in Greentown, Indiana! It also marks the first outing for our magazine founder Christian Sullivan with Danelle Sullivan and joined by fellow magazine reviewer J.R. Rife, with Christian's first festival on American soil to experience the weekend, to meet and to connect with artists and fans of hard music alike.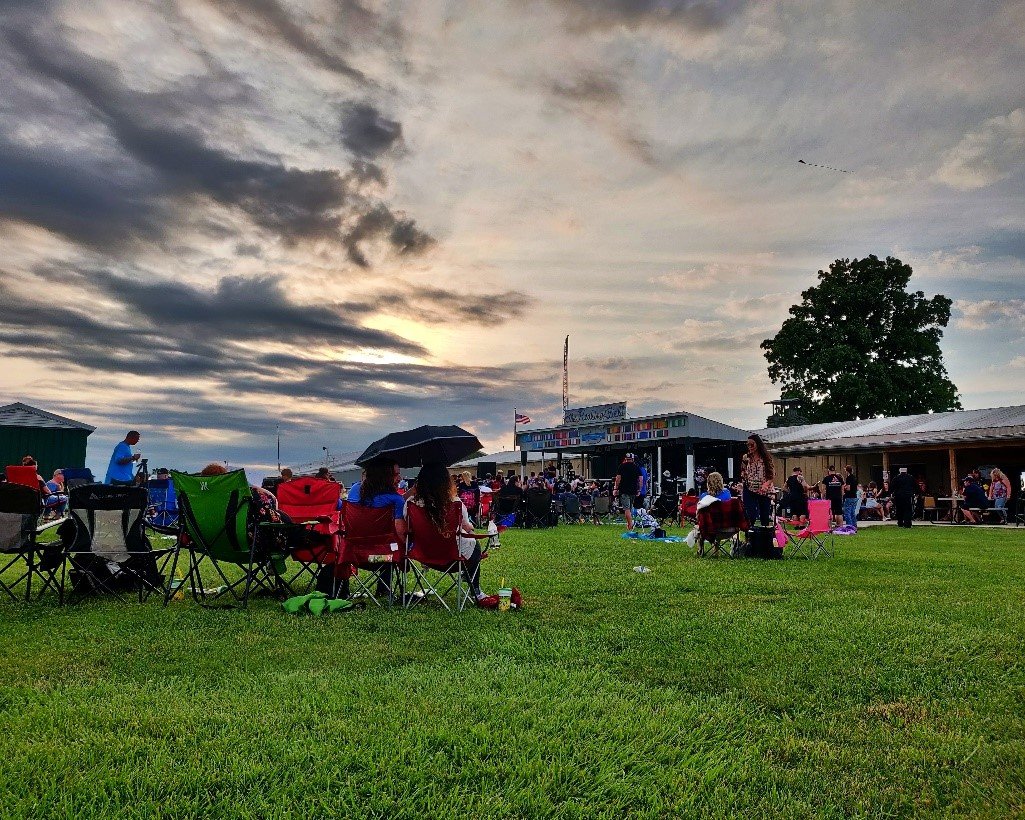 Kingdom Come isn't a metal festival per se, and yet, The Metal Onslaught was still there to cover this amazing community and family-friendly event which did feature a few metal artists. It was also the very first year that a second stage was offered.
With acts and patrons coming in from all over the country, the field at Howard County Vietnam Veterans Organization Reunion Grounds was rocking for the King, for two days solid!
Full of testimonies, uplifting music, camping, fellowship, and funnel cake, this is a festival that truly did have something for everyone. There was even a proposal from the Capstone Stage. Love & romance and rock??? KCF really does have it all.
Day 1 at the Capstone and Main stages welcomed a variety of acts. While Capstone entertained more of the rockers with an "edge", Main had everything from rappers to rockers as well as all points in between! The day was sticky-hot with a heat index pushing those triple digits (that's 38+degrees for my friends who use Celsius) but a strong breeze blew through most of the day providing comfort. Some severe weather had been forecast, and for a time the threat appeared to be real, but nearly all of it passed over us. In fact, only a couple miles away a tornado had been confirmed to have touched down but KCF was able to rock on, uninterrupted. Even in Christian's first experience of the national anthem and the raising of the American flag, he knew that these are the years that will define the metal and rock community in a forward manner.
It was a struggle to know where to start when it came to live performances but, of course We Are Vessel rocked out a very entertaining set to kick things off. Another band Relesser blew us away with their modern rock-infused electronic synth, so much so JR had to seek out the band's latest album Identity.
We headed straight to the Capstone tent as, I (Christian) wanted to experience the ever great metalcore band The Persuaded live, due to our constant support of the band since before their signing on Rockfest Records. We congregated at the tent entrance as the humidity was doing a number on us but, certainly worth the watch as they belted through their set.
Divine Martyr graced the Capstone stage shortly after with their first performance of the year with their symphonic power metal edge that entertained us all. I must give vocalist Natalie Lefevra credit where credit is due as she was suffering from a long-term illness throughout 2020. The next band we wanted to see was on the main stage as Relent crushed their performance with a strong presence and their band image. Fans of P.O.D. would be impressed as their quality was second to none.
Theody was next on the radar and I had really only heard of the band only once through a friend, however I heard so many great things I needed to check them out. Their stage presence and professionalism shined as they cranked through their set. Symphony Of Heaven were definitely a band I was waiting as the band features magazine writer and drummer Mason Beard. However our closeness to the band and for my first live performance of the band created that special excitement that I hadn't felt since Chaotic Resemblance back at Meltdown UK in October 2019. Clearly the heaviest band of the weekend, Logan Thompson and crew didn't disappoint with performing their brand new songs for the first time, though the sound was a little mixed as I wasn't sure if the sound guy could handle the intensity of what the quartet were delivering to the crowd in the Capstone tent.
As we ventured off for some grub, to our disappointment we never got to see songstress Zahna and band Fight The Fade as travelling in the wonderful world of America, the whole saying of A to B really isn't close, like my upbringing in Australia which springs to mind.
The Letter Black headlined the main stage when we returned, I had heard so much about them and the large fan base for the band. Even though not a huge fan of pop-driven hard rock, I was doing to give these guys a go and experience what they had to offer as a band after their two-year hiatus. Their professionalism with their crowd interaction was highly noted as they tore through their music from the old to the new from their upcoming 4th self-titled full-length album dropping in August 2021.
The set to finalize the night wasn't on the big stage, but on the first time alternative metal Capstone stage. We were running a little late on time as Gold, Frankincense and Myrrh, or most commonly known as GFM, finished the day. Many gathered in a full tent of excited fans and first-time onlookers like myself who just as with The Letter Black, I had heard so much about this all-girl group of sisters ranging from the ages of 15 to 21 years of age in pink cheerleader get-ups and playing heavy music labelled as beautycore.
From the moment the girls stepped on stage to play their brand of metalcore, you could sense that no matter their young ages they showed a level of musical maturity that you might say that they were ready for business. Not only was their stage presence something special to go by, but also the attitude of the girls that caught it all. An overall entertaining set.
Day 2 at the Main stage boasted just as much variety as the day before while Capstone brought out a literal surge of electronically-oriented grooves primarily from AD Windblown Media as well as some heavy offerings from Rottweiler Records and other friends of The Metal Onslaught. We were blessed with near-perfect weather that day since though it was hot, that breeze didn't stop!
Both Danelle and I arrived a bit later than planned (staying in the city made our travel longer) when we embarked to the Capstone tent. We walked into the set of David Pataconi, in which was his very first ever public performance and also bumping into Shawn Browning of Rottweiler Records. Immediately we were impressed by David's music that can be described as '80s synth blended with a metal edge, with one of the first things to be said about David is out of the words of Shawn explaining the lyrical content and the high quality of David's songwriting which added to the overall experience given by this man from Tucson, Arizona.
We stayed within the Capstone tent as we were waiting for Angel Machine to grace us with their presence, featuring frontman and former Californian Wayde Seraph, who knew Danelle from years ago, and is now based in Indianapolis with his bride Apryll Seraph on keys, Josiah Brand (Firebrand) on electronics and Scott Reneer (bass and backing vocals). Industrial synth pop is not really a genre that we hear much about these days, unless we are talking an '80s music time warp but, honestly it was a breath of fresh air and immensely entertaining with a strong message throughout the performance. I would definitely have them to perform at the first Metal Onslaught festival in California 2022.
Firebrand was next on the bill as we stayed in the Capstone tent, we sort of knew that it was a synth and industrial kind of afternoon and to be honest, this was the first time for me to experience these kind of genres on a live performance spectrum, which allowed me to expand more of my horizons. Anyway, enough rambling…….. Firebrand's introduction to the term electro-metal continued with the current flavor of the afternoon with a solid set and Josiah's surprise marriage proposal to girlfriend Lauren. At this point we were joined by friends Travis and Salena McConnell and James Solhammer when the question was asked, my emotions ran away with me with some tears in the eyes, only to see the love coming from Travis also in this divine moment of special memories that had been created.
As soon as we gained our composure again, we headed to the main stage to witness rap/metalcore outfit Bred 4 War which we have been supporting for a couple of years through this magazine. It was also great to see vocalist Daniel Streety after the show and his band showed their stage presence with humor (see Grave Robber posts on Facebook), some clad in bright orange prison suits, with quite a number of onlookers gathering as the band were clearly fan favorites on the day.
After a short break we ventured back to the Capstone stage as we caught the last two songs of We are Victory's set, with very sweaty band members and a very active bassist Hal Longview working the crowd. The Jericho Harlot was next delivering their fistful of high energy post-punk punk, energetic and robust, these guys certainly know how to put on a show.
Heading towards the headliner on the main stage, our great friends at Chaotic Resemblance took the stage as they featured singles from their last full-length album Covenant as well as a couple of new singles, for the band are currently writing new material. Travis McConnell was exceptional on vocals (no surprises there), as indeed his sharing about Jesus and giving an altar call was just as powerful. The usual suspects LA Ellis and bassist Isaac David stole the show with their crowd interactions as James Stolhammer was super impressive behind the kit. We missed chatting with LA this festival but, we felt the love when he saw us and blew a kiss. The band currently have no plans for a follow-up album at this time, however an EP is more than likely for 2022.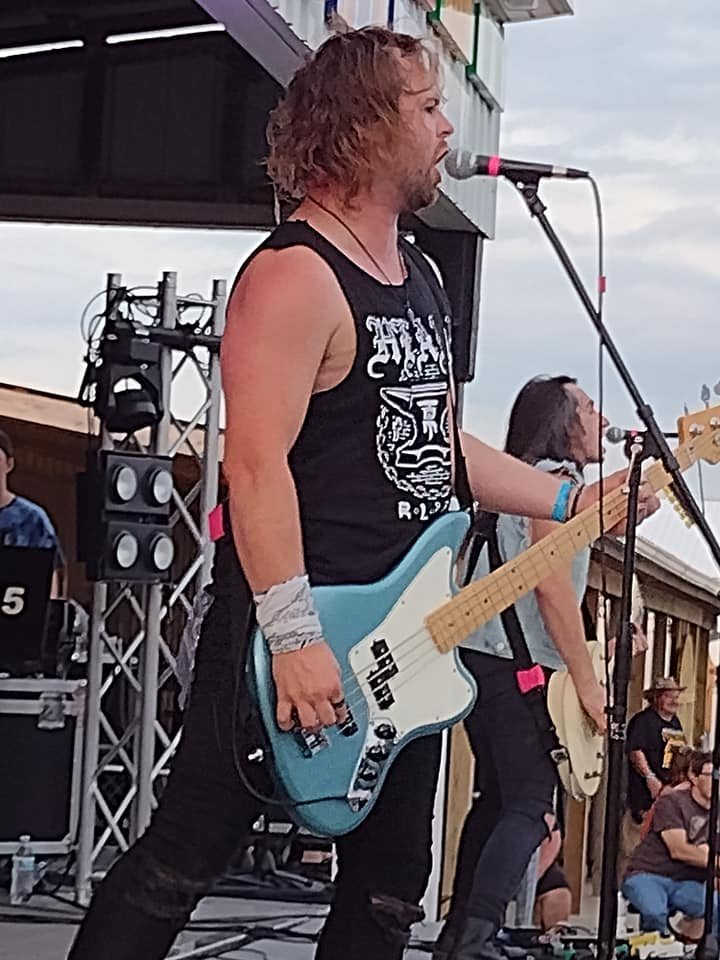 The Protest were next on the bill as we edged even closer to headlining act Disciple. Their flair was exercised in a generous portion as they engaged closely with the crowd. They oozed professionalism and rocked the onlookers with stellar results. Alternative hard rock is certainly a crowd pleaser at this event especially when this band took to the stage.
Disciple graced the main stage to end the night for many, I couldn't hardly believe it's been almost 30 years since the band first began back in 1993, and to my luck seeing them for the first time. You could see why Disciple have kept to a strong fan base after all these years, as they have easily adapted to musical trends that have been vastly popular over the last decade or so. The band still have plenty of energy and resolve as for the whole festival, this was the event no one wanted to miss.
By the time the dust had settled after a blistering 2 days, and very late I must add, Grave Robber were lurking through the shadows of the Capstone tent as a smoke machine filled the area with green glowing gases billowing through the cracks and underneath the tent walls. Wretched spoke as we waited anxiously by the tent doors, until they were opened for many of us that waited till 12.30am before the show started. It was a first time for me to experience Grave Robber in the flesh – or lack thereof, however their brand of horror punk pleased everyone that chose to stay regardless of the time.
In the end and as we know it KCF offered the reunion of old friends while also having ample opportunity to discover new friends and new bands.
TMO is grateful for the efforts of the organizers, the sponsors, the veterans for the use of their fields, the speakers, and the artists. It was truly wonderful to see people there supporting all of the acts, regardless of the different styles we might cling to.
If you missed it this year, you definitely want to check it out next year. And if you were there this year, come on back in 2022 and let's do it again!
JR Rife (www.facebook.com/RevRife) and Christian Sullivan for The Metal Onslaught
A huge thank you to Jeanette Yoder Photography for the extra photos we couldn't take and all at Kingdom Come Festival.
( http://themetalonslaught.com/ & www.facebook.com/TheMetalOnslaught )