War of Ages makes the drive nearly every year to Uprise. And every year, they are one of the best bands you can possibly see. I don't care who is on the Main Stage, when War of Ages plays, I'm at the Rock Star stage. Having just released Void the day before (yes, it's a record release weekend!) we were treated to a mix of old classics and soon to be classics in an amazing set! It was just awesome to hear those exciting new tracks and then of course, get the set ending that we always do at Uprise.
When you hear the song, All Consuming Fire start, then you know what time it is! A time of Circle Pits and then towards the end, all the audience is pushing to the front because Leroy is coming out into the crowd! And then that's how it ends and it's never a boring ending! It's a moment of worship and not worshipping a band or person, but creature and creation praising Yahweh for all of His goodness!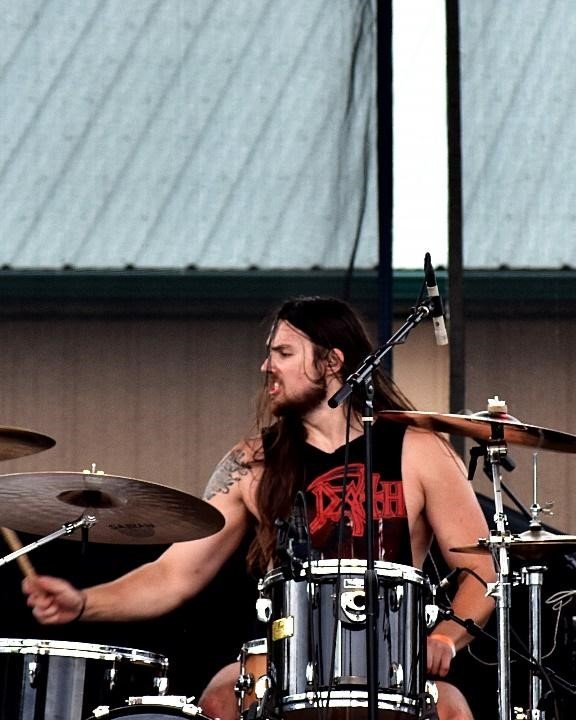 Project 86 was up next. They are another band of veterans who constantly brings a strong performance in their style of hardcore music from Orange County. A few songs in, Andrew Schwab asked, "is anybody here having a bad day?" Nobody said anything. Maybe wondering if it was a trick question. He said, "I'm being serious. I want to know. Is there someone here having a bad day?" After some more silence, a woman a few feet away from me raised her hand. Andrew pointed to her with love and sincerity, and in a moment of empathy, was able to communicate even beyond words, the same message of Spoken, Death Therapy, Disciple, and so many other bands, that it is "OK" to feel what we feel in the human condition. That we're not any less than the super-Christians who seem to have it all together.
He then said, "This next song is for you then. In fact, the rest of our songs are for you."
Project 86 finished up their blistering set and then the stage was cleared for one of the biggest bands on the radio in the secular music scene in the mid to late 2000's, The Red Jumpsuit Apparatus. Now, I wouldn't classify them as metal and I don't think they would classify themselves as metal. But I do think it was a great transition between Project 86 and the final band of the night.
I know a lot of folks who were there for the extreme stuff decided not to stick around and I totally understand it. But The Red Jumpsuit Apparatus has one of the most amazing ministries in my opinion. You won't find them too much in the Christian scene. In fact, you'll catch them more in the secular scene playing with secular bands. Even having their music featured in WWE events, film soundtracks, and video games. Yet their hearts are fully centred on the Gospel of Jesus Christ and they take that into all the world. In fact, having a home in the secular market, I see more of their boldness for Christ than I see in many bands in the Christian market. So, I know its not very "metal" of me to take time to share anything about this band's set, but if you don't like the melodic, emo-ish, screamo post-hardcore stuff, it's cool! I just fully support and appreciate bands that take the gospel into all of the world. The Red Jumpsuit Apparatus is one such band.
And then the moment we had all been waiting for, Fit For a King! Those guys came out as the sun was setting and destroyed Uprise! I mean, I know Crowder was playing Main Stage and Andy Mineo was closing out the Hip Hop stage at the same time, but I wouldn't be surprised if most of Shippensburg heard, over and above all the other stages, holy metal from this four piece band from Texas, lifting all glory and honour to the King of Kings!
It was loud, heavy, and awesome! FFAK even got the crowd to "Circle Pit" around the central sound booth where I was stationed with my camera gear. And towards the end of their set, Tuck O'Leary took a break from his spinning jump-kicks to run throughout the crowd with the energy of kids half his age.
The band closed out the Rock Star stage with one of the most impassioned metal performances you could hope to catch.
While most of the Uprise "heavy" bands fall into the subgenre of "Metalcore", even if you prefer other subgenres I think it's just a wonderful time to gather together as believers (or even non-believers looking for some good fun!) and just enjoy the work and sacrifice it takes to do what these people do.
At one-point Matt Baird of Spoken said about how blessed they (he and all the bands) where to still be doing this after so many years. And to not let people influence you as to the "struggles" and "despair" of the road in a touring band. That it is an absolute blessing and so if you want to be in a band, then start a band and play your heart out! That's a paraphrase of what he said but I think it's pretty close!
The Uprise Rock Star stage is a great way to close out the Summer Festival Season in the States. With June/July being a peak time for such things as AudioFeed and Creation, it's great to be able to gather right before Fall begins when temperatures having gone down and have a bit of relief from the sun and heat generally associated with the earlier Summer Festivals; and all for a really great price for two-days of all kinds of music, not just metal. If you like other stuff like Hip Hop, Rock, Worship, or even Country, Uprise really does have it all. Even this year, before Skillet closed out night one, comedian John Crist had a set.
And it's a great opportunity for headbangers to go listen to the music we like, while showing how loving and passionate we can be towards the rest of the body of Christ, who may not be sure how to receive folks covered in tattoos, wearing more black than a funeral procession, or having longer hair.
I love metal, but I love to be Jesus to all people. As we walked to our car with what was left of our case of water, we were able to hand out bottles to tired and dehydrated folks leaving the Hip Hop stage. Union in the body of Christ was the entire theme of Jesus' words in John 17. Uprise Festival is a place to practice that. Hope to see you there next year!
JR Rife for The Metal Onslaught